You are here
July 18, 2011
Comparing Treatments for Early-Stage Prostate Cancer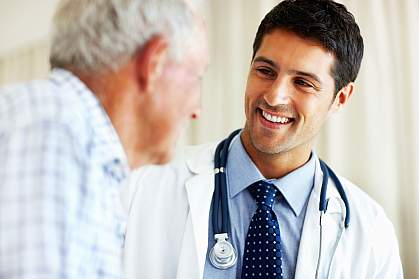 In a large clinical trial, short-term hormone therapy in combination with radiation therapy proved a more effective treatment than radiation therapy alone for men with intermediate-risk, early-stage prostate cancer.
Prostate-specific antigen (PSA) testing has enabled earlier diagnosis of prostate cancer. But treatments for prostate cancer were mostly developed and tested against later stage, bulkier tumors. The Radiation Therapy Oncology Group, a clinical cooperative group funded by NIH's National Cancer Institute (NCI), set out to test treatments for early-stage prostate cancer.
The researchers enrolled nearly 2,000 men with early-stage prostate cancer. All had localized prostate cancer and PSA levels of less than 20 nanograms per milliliter. Because prostate cancer rates are higher among African-American men, the study enrolled nearly 400 African-American patients.
Particpants were randomly assigned to treatment with radiation alone or radiation plus short-term androgen deprivation therapy (ADT), in which drugs administered over 4 months block the natural production of testosterone. Past studies found that short-term ADT improves survival among patients with later stage tumors. The scientists looked at several outcomes, including lifespan, whether deaths occurred from prostate cancer or some other cause, and whether the cancer spread. The results appeared in the July 14, 2011, edition of New England Journal of Medicine.
The researchers found that short-term ADT and radiation improved overall survival at 10 years compared with radiation therapy alone (62% vs. 57%). Adding short-term ADT to radiation therapy also led to fewer prostate cancer-related deaths (4% vs. 8%). Similar benefits from short-term ADT were seen in white and African-American populations.
The researchers next asked whether treatment efficacy differed by disease risk. They grouped the patients into 3 risk categories — high, intermediate and low — based on several parameters, including Gleason score (in which a pathologist assigns the tumor a grade based on an analysis of tissue samples from a biopsy), PSA level and clinical stage of the disease.
The intermediate-risk subgroup benefitted the most from the addition of short-term ADT. Their 10-year overall survival rate increased from 54% with radiotherapy alone to 61% with short-term ADT and radiation. Prostate cancer-related deaths were reduced from 10% to 3%. The researchers note that a longer follow-up might also reveal some benefit from short-term ADT for men with low-risk disease. However, short-term ADT can cause hot flashes and higher rates of erectile dysfunction. At this point, the findings don't support adding short-term ADT for low-risk prostate cancer.
"This study has important significance for clinical care," says lead author Dr. Christopher U. Jones of Radiological Associates of Sacramento, California. "We now have strong scientific evidence about which patients with early-stage prostate cancer benefit from short-term ADT. This is important both for improved clinical care and the utilization of health care resources."
Related Links