You are here
June 18, 2012
Cooling Therapy for Birth Disorder Boosts Later Survival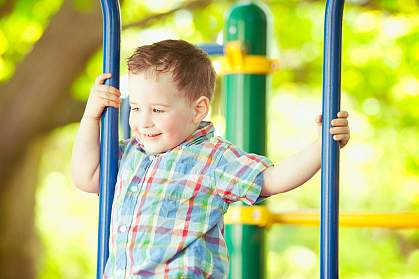 A treatment that cools the bodies of infants who lack sufficient oxygen at birth brings benefits that last for years, a new study confirms.
Infants sometimes develop severe oxygen deficiency during the birth process. This condition—known as birth asphyxia or hypoxic-ischemic encephalopathy—can arise from blood loss and other complications during birth. In severe cases, death rates can reach 50%. Survivors often suffer from brain damage, which can lead to cerebral palsy, cognitive impairment, or hearing and vision loss. Even without detectable brain damage, children who've had birth asphyxia are at increased risk for learning disabilities, language delays and memory deficits later in life.
In 2005, an NIH-supported study found that a cooling treatment given to newborns with birth asphyxia reduced the risk of death and disability by ages 18 to 22 months compared to routine care. The technique, called hypothermia treatment, involves placing the newborn on a waterproof blanket that contains cool circulating water. The treatment reduces the infant's temperature as low as 91.4 °F and maintains it there for 72 hours. Caregivers then allow the infant's body temperature to return to normal. Many neonatal intensive care units have now adopted this therapy for full-term infants who show signs of brain dysfunction from low oxygen.
The new study examined long-term outcomes for 190 of the original study participants. About half of these children had received the hypothermia treatment as newborns. The others had received usual intensive care. The scientists analyzed data from the children when they were 6 to 7 years old. Primary funding for the research came from NIH's Eunice Kennedy Shriver National Institute of Child Health and Human Development (NICHD).
As reported in the May 31, 2012, issue of the New England Journal of Medicine, the researchers found a significantly lower mortality rate in the hypothermia group (28%) compared to the usual care group (44%).
The researchers also calculated the number of deaths and cases of severe disability as a single combined outcome. Severe disability involved motor function, cognitive ability and vision. The combined rate was 41% for the cooling group, compared with 60% for the usual care group. Rates of cerebral palsy, blindness and epilepsy were similar between the 2 groups.
"This follow-up study confirms the original finding, showing that children who received the cooling treatment were more likely to survive, and that the survivors were no more likely to have a disability than the children in the untreated group," says senior author Dr. Rosemary D. Higgins of NICHD. "Testing at 18 months can identify major delays in a toddler's growth or brain development, but can't identify some of the more subtle cognitive or physical impairments that might become apparent in an older child."
Related Links
References: N Engl J Med. 2012 May 31;366(22):2085-92. PMID: 22646631