You are here
February 4, 2013
Dengue Vaccine Shows Early Promise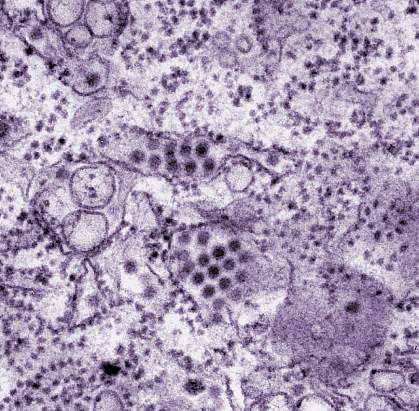 CDC
Just one dose of a low-cost vaccine proved safe and stimulated a strong immune response against the dengue virus in most participants in an early-stage clinical trial. With further development, the vaccine may help ease the burden of dengue fever in developing countries.
Dengue fever occurs in tropical and subtropical areas of the world, where it is spread by mosquitoes. Each year, dengue fever affects 50 million to 100 million people and hospitalizes nearly 500,000, according to the World Health Organization. Four related viruses can cause dengue fever: DENV-1, DENV-2, DENV-3, and DENV-4. Infection with one results in immunity to that specific virus but not to the other 3. Studies have found that infection with one virus type increases the risk for severe dengue fever from a different dengue virus. The ideal vaccine, therefore, would be tetravalent — meaning it protects against all 4 dengue viruses.
In previous work, a research team led by Dr. Anna Durbin of Johns Hopkins University tested vaccine candidates against each dengue virus. The vaccines — developed by scientists at NIH's National Institute of Allergy and Infectious Diseases (NIAID) — were live-attenuated vaccines. These vaccines contain weakened viruses that don't cause illness but can still induce an immune response.
In the new study, the scientists tested tetravalent combinations of the most effective vaccine candidates against each of the 4 viruses. The phase I clinical trial included 112 healthy men and women ranging from 18 to 50 years old. None had prior exposure to dengue or other related viruses. The participants were randomized into 4 groups. Within each group, 20 people received a single injection of 1 of the 4 combinations. The remaining 8 received a placebo. The NIAID-funded study appeared online on January 31, 2013, in the Journal of Infectious Diseases.
All 4 vaccine combinations successfully produced immune responses without any serious side effects. A single dose of one vaccine combination, TV003, induced an antibody response to all 4 dengue viruses in 45% of participants and a response to at least 3 of the viruses in 90%.
"What is promising about TV003 is that it elicited solid antibody responses after just one dose," explains NIAID's Dr. Stephen Whitehead, who led development of the vaccine candidates. "Other vaccines in development require 2 or 3 injections at higher doses to achieve similar results."
The scientists found that differences in side effects and immune responses correlated with ethnicity. Additional research to evaluate these racial differences is now underway. The researchers are also conducting other studies to develop and evaluate TV003 further.
TV003's inexpensive production cost — less than $1 per dose — is critical to its potential use in developing countries where dengue is prevalent. Manufacturers in Brazil, India and Vietnam have already licensed the vaccine technology, called TetraVax-DV, for production and further evaluation. In addition, phase II trials are scheduled to begin soon in Brazil and Thailand.
Related Links
References: J Infect Dis. 2013 Jan 31. [Epub ahead of print] PMID: 23329850.