You are here
September 27, 2016
Depression screening and treatment in adults
At a Glance
A study suggests that most adults with depression may not receive treatment, and that many who do undergo treatment might not have the disorder.
The findings highlight the need to deliver appropriate care to people with depression.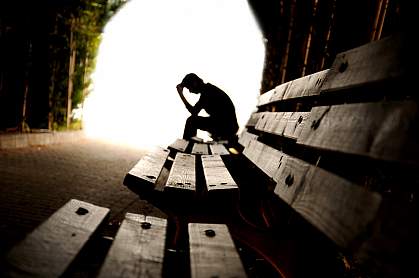 hikrcn/iStock/Thinkstock
Depression is a serious and common mood disorder. Signs and symptoms include feelings of hopelessness or pessimism; irritability; decreased energy or fatigue; loss of interest or pleasure in hobbies and activities; difficulty concentrating, remembering, or making decisions; and feelings of guilt, worthlessness, or helplessness.
Major depression is typically treated with medications, psychotherapy, or a combination. Although antidepressants are the most commonly prescribed class of medications in the U.S., some studies have found that many adults with depression don't receive treatment.
A team led by Dr. Mark Olfson of Columbia University Medical Center set out to assess how depression is treated in adults in the U.S. The study was funded in part by NIH's National Institute on Drug Abuse (NIDA). Results appeared online on August 29, 2016, in JAMA Internal Medicine.
The researchers analyzed data from more than 46,000 adults, age 18 and older, who took part in a survey conducted by the Agency for Healthcare Quality and Research in 2012-2013. The survey included a questionnaire to screen for depression, as well as questions regarding psychological distress and depression treatment.
The team found that about 8% of the adults screened positive for depression. Those who screened positive were more likely to be in the lowest income group; to be separated, divorced, or widowed; have public health insurance; or have less than a high school education. 
More than two-thirds of adults who screened positive for depression didn't receive treatment during the survey year. Those who were treated were more likely to be female, white, age 35 to 64 years, non-Hispanic, have at least completed high school, and have health insurance.
Overall, about 8% of participants received treatment for depression. Of those treated, only 30% screened positive for depression and 22% for serious psychological distress. Thus, a large number of people were treated who screened negative for depression and weren't in serious distress.
The most common treatments for depression were antidepressants (87%) and psychotherapy (23%). Of those treated for depression, 73% were treated exclusively by a general medical professional and 24% by psychiatrists.
"Greater clinical focus is needed on depression severity to align depression care with each patient's needs," Olfson says. "These patterns suggest that more needs to be done to ensure that depression care is neither too intensive nor insufficient for each patient."
—by Carol Torgan, Ph.D.
Related Links
References: Treatment of Adult Depression in the United States. Olfson M, Blanco C, Marcus SC. JAMA Intern Med. 2016 Aug 29. doi: 10.1001/jamainternmed.2016.5057. [Epub ahead of print]. PMID: 27571438.
Funding: NIH's National Institute on Drug Abuse (NIDA) and the Agency for Healthcare Quality and Research.