You are here
December 15, 2008
Dietary Supplements Fail to Prevent Prostate Cancer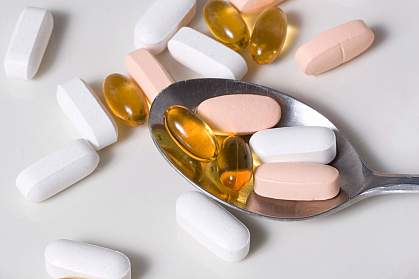 Two large-scale clinical trials found that regular intake of vitamin E, vitamin C or selenium does not reduce the risk of prostate cancer or other cancers in older men, as some previous studies had suggested.
Prostate cancer is the second-leading cause of cancer death in American men. It's expected to kill about 29,000 people nationwide in 2008, and about 186,000 new cases are predicted for this year. Over a decade ago, a couple of clinical studies found evidence that prostate cancer risk might be reduced by taking vitamin E or selenium supplements, but these older studies weren't specifically designed to answer questions about prostate cancer. Smaller studies have hinted that vitamin C might help to prevent different types of cancer, but earlier trials haven't looked at the effects that vitamin C alone might have on prostate cancer in men at usual risk for the disease.
The 2 new studies, funded in part by NIH's National Cancer Institute (NCI) and several other NIH components, were designed to look specifically at how prostate cancer and total cancer risk is affected by different dietary supplements. The results of both trials were published on December 9, 2008, in the online edition of the Journal of the American Medical Association.
The larger study—the Selenium and Vitamin E Cancer Prevention Trial (SELECT)—recruited more than 35,000 men, age 50 and older, who had no evidence of prostate cancer. Participants were randomly assigned to receive selenium, vitamin E, the 2 in combination or inactive placebo pills for comparison. Researchers originally intended to follow each participant for at least 7 years. But in October 2008, after an average follow-up of about 5.5 years, the participants were asked to stop taking their pills. That's because an independent monitoring committee found that the supplements seemed to offer no cancer-related benefits. In fact, preliminary analyses hinted at some possible harm.
Overall, the researchers reported no significant differences between the 4 groups in the rates of prostate cancer or other types of cancer. The men taking vitamin E alone had a slightly raised prostate cancer risk, and those taking selenium trended toward a higher risk of type 2 diabetes. In both cases, though, the differences weren't large enough to prove they weren't due to chance. Although the study participants are no longer taking their assigned treatments, the researchers plan to continue monitoring their health for at least 3 more years to detect any long-term effects of supplement use.
The second trial, Physicians' Health Study II, looked at how the long-term use of vitamin E or C supplements affect the risk of prostate or other cancers. More than 14,000 male doctors, age 50 or older, were randomly assigned to take either vitamin E, vitamin C, both vitamins or a placebo. After an average follow-up of about 8 years, the scientists found that neither vitamin—alone or in combination—significantly reduced the risk of prostate or other cancers compared to the placebo group. No significant negative effects were associated with vitamin use.
The results of these studies highlight the fact that, while dietary supplements can often seem beneficial in small observational studies, large, carefully controlled trials are needed to test whether they really live up to their hoped-for benefits.
Related Links