You are here
April 7, 2020
Diets improve but remain poor for most U.S. children
At a Glance
Although diet quality improved modestly for American children and adolescents from 1999 to 2016, more than half still had poor quality diets.
The findings highlight the need to develop and test strategies to improve the eating habits of U.S. children.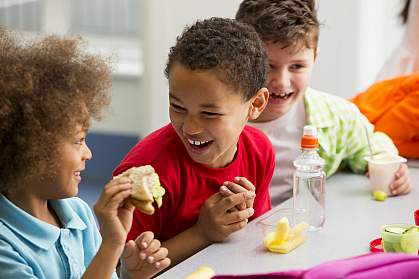 SolStock / E+ via Getty Images
Childhood nutrition is an important foundation for later health. Diets early in life can shape food habits into adulthood. The U.S. has launched several national programs to improve early nutrition and help reduce childhood obesity. These programs ensure balanced school lunches and encourage low-income families to buy more fruits and vegetables.
A research team led by Drs. Junxiu Liu and Dariush Mozaffarian at Tufts University studied trends in childhood diet quality from 1999 to 2016. The work was funded by NIH's National Heart, Lung, and Blood Institute (NHLBI) and the American Heart Association (AHA). Findings were published in JAMA on March 24, 2020.
Diet records were collected as part of the National Health and Nutrition Examination Survey (NHANES). Children and their parents were interviewed about daily food choices during NHANES. Youth ages 12 and older self-reported what they had eaten, while children ages 6 to 11 were interviewed about their diet with the help of their parent or other adult. Parents or other adults reported food choices for children ages 5 and younger.
Previous studies of childhood diet have usually focused on only a few food groups/nutrients or relied on older data. For the current study, the researchers analyzed the daily eating habits of more than 31,000 youths, ages 2 to 19. They rated each child's diet as poor, intermediate, or ideal, based on dietary scores.
Diets were mainly evaluated using the AHA 2020 continuous diet score, which reflects consumption of fruits and vegetables, whole grains, fish and shellfish, sugar-sweetened beverages, and sodium. Diets were also evaluated using the AHA secondary score—which adds nuts, seeds, and legumes; processed meat; and saturated fat—and the Healthy Eating Index 2015 score, which is based on the Dietary Guidelines for Americans.
The analysis revealed that, whichever score was used, diets of children in the U.S. have improved modestly but remain poor for most. Based on the primary score, the proportion of children with low-quality diets decreased from 77% to 56% between 1999 and 2016. Intermediate quality diets increased from 23% to 44% of children during the 18-year study period. Ideal quality diets remained very low over the study period, at less than 1%.
Older youth (ages 12-19) had worse diet quality compared to younger children, with 67% eating poor quality diets. Disparities related to low household income, less parental education, and less food security—having access to enough food—persisted or worsened over time.
The study also identified trends for specific foods and nutrients. The average daily consumption of sugar-sweetened beverages decreased from two to one serving. This equates to about eight fewer teaspoons of added sugar. In 2016, children were consuming about a half serving more of whole grains and 1/5 serving more of fruit than at the start of the study.
However, dietary sodium increased—and greatly exceeds current guidelines. This may be due to an increase in processed foods and meals eaten outside the home.
"Our findings of slowly improving, yet still poor, diets in U.S. children are consistent with the slowing of rises in childhood obesity but not any reversal," Mozaffarian says. "Understanding these updated trends in diet quality is crucial to informing priorities to help improve the eating habits and long-term health of all of America's youth."
—by Erin Bryant
Related Links
References: Trends in Diet Quality Among Youth in the United States, 1999-2016. Liu J, Rehm CD, Onopa J, Mozaffarian D. JAMA. 2020 Mar 24;323(12):1161-1174. doi: 10.1001/jama.2020.0878. PMID: 32207798.
Funding: NIH's National Heart, Lung, and Blood Institute (NHLBI); American Heart Association.