You are here
March 9, 2009
Drug Combination Defeats Deadliest Form of Tuberculosis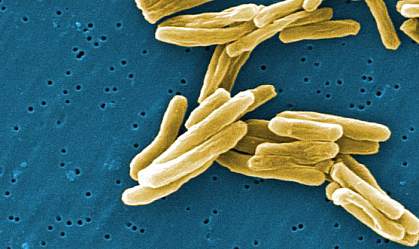 Janice Carr and Dr. Ray Butler, Centers for Disease Control and Prevention
A new study has identified a potential treatment for extensively drug-resistant tuberculosis, the most deadly form of the disease. The treatment involves a combination of 2 drugs that have already been approved for fighting bacterial infections.
Tuberculosis is caused by infection with Mycobacterium tuberculosis bacteria. An ancient disease, it remains one of the major causes of disability and death worldwide. In 2006, it infected 9.2 million people, and 1.7 million people died of it. Tuberculosis can usually be cured with a combination of drugs taken for several months. However, some strains have grown resistant to antibiotics. Extensively drug-resistant tuberculosis strains are resistant to multiple antibiotics. As a result, they're the most challenging to treat, requiring up to 2 years of extensive drug treatment.
The β-lactam class of antibiotics, which includes penicillin, is safe and effective against many types of bacterial infections. However, they haven't been effective at treating tuberculosis. The genome sequence of M. tuberculosis, published just over 10 years ago, revealed an important reason for this: the bacteria make a protein called BlaC that rapidly neutralizes β-lactams. A recent study showed that removing the gene for BlaC makes the bacteria more sensitive to β-lactams.
Drs. Jean-Emmanuel Hugonnet and John S. Blanchard at Albert Einstein College of Medicine have been closely studying BlaC. They discovered that clavulanate, a drug that's already been approved by the Food and Drug Administration (FDA), irreversibly inhibits BlaC. Together with researchers at NIH's National Institute of Allergy and Infectious Diseases (NIAID), they set out to test whether using clavulanic acid to block BlaC would render M. tuberculosis susceptible to ß-lactam antibiotics. The research at NIAID was supported, in part, by the Bill and Melinda Gates Foundation and the Wellcome Trust.
The researchers tested combinations of clavulanate with different ß-lactam antibiotics. One in particular, meropenem, interested them because the Einstein team had previously shown that BlaC neutralized it extremely slowly. A report in the February 27, 2009, issue of Science shows that a combination of clavulanate and meropenem had potent activity against M. tuberculosis in the laboratory, killing cultures within 14 days. The combination also inhibited cultures grown under conditions that mimic the "persistent" state of disease, when the bacteria hide out in the body without causing symptoms.
The drug combination inhibited the growth of 13 extensively drug-resistant strains of M. tuberculosis at the same levels seen for drug-susceptible strains. Since meropenem and clavulanate are both FDA-approved drugs, they could potentially be used to treat patients with currently untreatable disease.
NIAID researcher Dr. Clifton E. Barry, III, a co-author of the paper, is leading plans to launch a phase 2 clinical study of the drug combination in approximately 100 tuberculosis patients in South Korea by the end of 2009. A separate trial—a joint collaboration between Montefiore Medical Center, the Albert Einstein College of Medicine and the Nelson Mandela School of Medicine in Durban, South Africa—will test the potency of the combination in another group of patients.
—by Harrison Wein, Ph.D.
Related Links