You are here
March 21, 2011
Drug Helps Improve Asthma Treatment in Youths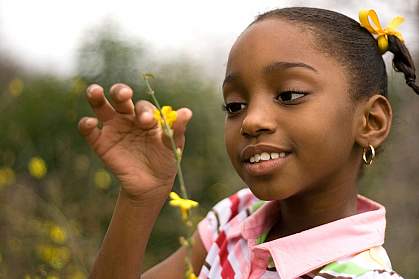 Adding a drug called omalizumab to asthma therapy nearly eliminated the fall and spring seasonal surges in asthma attacks among children and adolescents living in inner-city environments. The new study's findings could help doctors combat this chronic disease.
Nationwide, asthma affects an estimated 18 million adults and 7 million children. Symptoms include wheezing, coughing, chest tightness and shortness of breath. These can be provoked by viral infections, allergens and air pollution. Asthma therapy based on NIH guidelines is generally effective. Still, some patients have symptoms that require a trip to the hospital. Inner-city children and adolescents are at particularly high risk.
Researchers in the Inner City Asthma Consortium — a clinical trials network supported by NIH's National Institute of Allergy and Infectious Diseases (NIAID) — set out to test whether adding omalizumab (Xolair) to asthma therapy could improve outcomes. NIH's National Center for Research Resources (NCRR) and Novartis Pharmaceuticals Corporation also provided funding for the study. Omalizumab is approved for patients 12 and older with moderate to severe persistent allergic asthma. The drug blocks the activity of immunoglobulin E (IgE). When allergens bind to IgE on the surface of certain immune cells, the cells release substances that cause allergic reactions. These substances trigger airway muscles to contract, causing difficulty breathing.
The researchers enrolled 419 participants, 6 to 20 years old. All had been diagnosed with moderate to severe allergic asthma lasting more than 1 year. Most were minorities, predominantly African-Americans (60%) and Hispanics (37%). In addition to their standard therapy, half were randomly assigned to receive omalizumab and the other half a placebo. The treatments were given every 2 to 4 weeks over a 60-week period. The participants returned to the clinic every 3 months for evaluation. Doctors adjusted their non-trial medications as needed according to the NIH asthma treatment guidelines.
The results appeared in the March 17, 2011, issue of the New England Journal of Medicine. Participants who received omalizumab had an overall 25% reduction in days with symptoms and a 30% reduction in asthma attacks compared with those who received placebo. Omalizumab treatment also led to a 75% reduction in hospitalizations. Importantly, the spring and fall increases in asthma attacks seen in participants taking a placebo were almost eliminated in those receiving omalizumab.
The participants who responded best to omalizumab had positive skin tests for cockroach allergy and high levels of cockroach allergen in their homes. In previous work by NIAID-supported researchers, the combination of cockroach allergy and exposure to cockroaches was found to be an important factor in asthma-related illness and hospitalization.
"The spike in asthma attacks in the fall, which is associated with colds and other viral airway infections, disappeared in the kids in the omalizumab group," says principal investigator Dr. William Busse at the University of Wisconsin-Madison. "Because the drug specifically targets IgE, which is the antibody responsible for allergies, our observations show the possible interplay between allergies, respiratory viruses and IgE in provoking asthma attacks."
Related Links