You are here
April 23, 2019
Drug helps people with rare chronic immune disorders
At a Glance
An FDA-approved drug dramatically improved the health of people with rare chronic immune disorders called hypereosinophilic syndromes.
The findings suggest a new treatment for these disorders but need to be confirmed in a larger study.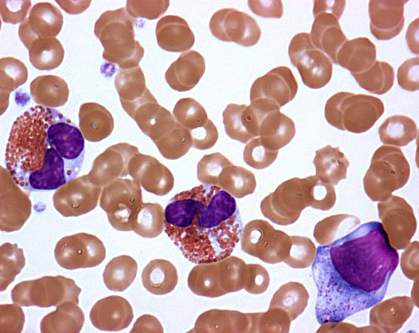 NIAID
Hypereosinophilic syndromes (HES) are conditions caused by higher-than-normal numbers of white blood cells, called eosinophils. These excess blood cells can build up inside tissues. Any organ system can be affected by HES. The skin, respiratory, and gastrointestinal tracts are the most commonly affected. Current treatments don't help everyone. They can also have serious side effects.
FDA recently approved a drug called benralizumab for people who have a form of asthma associated with excess eosinophils in the lungs. This drug is an antibody that can bind to a protein, called IL-5 receptor alpha, on the surface of eosinophils. Scientists believe that once this binding takes place, immune cells may target and remove excess eosinophils.
To find out whether this drug could also help people with HES, a team led by Dr. Amy Klion at NIH's National Institute of Allergy and Infectious Diseases (NIAID) carried out a clinical trial testing it in 20 people for 48 weeks. Results were published on April 4, 2019, in the New England Journal of Medicine.
The first phase of the study lasted 12 weeks. The team randomly assigned participants to receive either benralizumab or a placebo. Both groups of patients received their treatments by injection once every 4 weeks. They continued to get their regular HES treatment.
At the end of the 12 weeks, blood tests showed a greater than 50% reduction in eosinophils in nine of the 10 people who received the drug. In contrast, only 3 of the 10 people who received placebo had a greater than 50% reduction in eosinophil counts.
In a second 12-week phase, all participants received the drug once every 4 weeks. During the third phase, those participants whose symptoms or eosinophil counts had improved by week 24 could continue receiving the drug until week 48.
The researchers found that 17 of 19 people had undetectable eosinophil counts and fewer symptoms after at least 12 weeks of the drug. (One person withdrew for logistical reasons.) The participants reported few or no side effects. These benefits lasted through the end of the third phase in 14 of 19 people. Nine of those participants tapered off their other HES treatments during the third phase. All 14 people continued receiving the drug for another year after completing the third phase.
"People living with a rare disease often have few, if any, effective treatment options," says NIAID Director Dr. Anthony S. Fauci. "This promising treatment advance for people with hypereosinophilic syndromes is just one example of how NIH research responds to the unique medical needs of individuals with rare diseases."
A larger study of benralizumab for treating HES is needed to confirm the results of this study. For more information about this trial, visit ClinicalTrials.gov and search with study identifier NCT02130882.
Related Links
References: Benralizumab for PDGFRA-Negative Hypereosinophilic Syndrome. Kuang FL, Legrand F, Makiya M, Ware J, Wetzler L, Brown T, Magee T, Piligian B, Yoon P, Ellis JH, Sun X, Panch SR, Powers A, Alao H, Kumar S, Quezado M, Yan L, Lee N, Kolbeck R, Newbold P, Goldman M, Fay MP, Khoury P, Maric I, Klion AD. N Engl J Med. 2019 Apr 4;380(14):1336-1346. doi: 10.1056/NEJMoa1812185. PMID: 30943337.
Funding: NIH's National Institute of Allergy and Infectious Diseases (NIAID).