You are here
July 21, 2014
Drug Improves Birth Rates for Women with Ovary Disorder
At a Glance
The drug letrozole is more effective than standard therapy in increasing live births for women with polycystic ovary syndrome.
Letrozole could provide a less expensive, more effective treatment for women with this syndrome.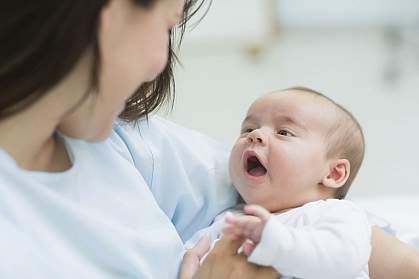 Polycystic ovary syndrome (PCOS) is a leading cause of female infertility. It affects 5-10% of reproductive-age women. Women with PCOS have unusually high levels of male hormones, infrequent or irregular menstruation cycles, and oftentimes enlarged ovaries packed with fluid-filled cysts.
The current treatment for PCOS infertility is the drug clomiphene. It works by blocking estrogen action, which stimulates hormones that induce ovulation. However, clomiphene has multiple side effects, including hot flashes and mood changes. The drug's 22% success rate for live births is relatively low, and it tends to lead to a high number of twin or multiple pregnancies.
In a search for more effective ways to reverse PCOS infertility, some physicians have begun using the drug letrozole. Letrozol has been approved as a breast cancer treatment by the U.S. Food and Drug Administration. The drug is also known to suppress production of estrogen, which in turn triggers release of the hormones that drive ovulation.
A multicenter clinical study led by Dr. Richard S. Legro of Penn State College of Medicine compared the effectiveness of letrozole and clomiphene in treating PCOS-related infertility. The effort was funded in part by NIH's Eunice Kennedy Shriver National Institute of Child Health and Human Development (NICHD) and National Center for Advancing Translational Sciences (NCATS). Results were published on July 10, 2014, in the New England Journal of Medicine.
The researchers enrolled 750 infertile women with PCOS who were between 18 and 40 years of age. All participants were attempting to achieve pregnancy, and their male partners met minimum sperm count requirements. The participants were randomly divided into 2 groups to receive either letrozole or clomiphene. Women were given up to 5 monthly cycle treatments.
The researchers found that women treated with letrozole were more likely to have live births than those receiving clomiphene (27.5% vs. 19.1%). Letrozole also led to significantly increased ovulation rates compared to clomiphene (61.7% vs. 48.3%). Although there was no statistical significance (a difference great enough to prove it wasn't due to chance), letrozole treatment tended to result in fewer twin pregnancies compared to clomiphene therapy (3.4% vs. 7.4%). Side effects with letrozole were fatigue and dizziness, as opposed to the hot flashes and mood changes seen with clomiphene. Birth defect rates were similar in the 2 groups.
The findings suggest that letrozole is a promising alternative to clomiphene for treating PCOS infertility. Further study will be needed to clarify the long-term safety of the treatment.
"We are extremely encouraged that letrozole could provide a new, oral, first-line therapy for this common disorder," Legro says. "A letrozole-based treatment potentially could provide a less invasive, less expensive therapy, with a lower risk of multiple pregnancy."
Related Links
References: Letrozole versus clomiphene for infertility in the polycystic ovary syndrome. Legro RS, Brzyski RG, Diamond MP, Coutifaris C, Schlaff WD, Casson P, Christman GM, Huang H, Yan Q, Alvero R, Haisenleder DJ, Barnhart KT, Bates GW, Usadi R, Lucidi S, Baker V, Trussell JC, Krawetz SA, Snyder P, Ohl D, Santoro N, Eisenberg E, Zhang H; NICHD Reproductive Medicine Network. N Engl J Med. 2014 Jul 10;371(2):119-29. doi: 10.1056/NEJMoa1313517. PMID: 25006718.
Funding: NIH's Eunice Kennedy Shriver National Institute of Child Health and Human Development (NICHD) and National Center for Advancing Translational Sciences (NCATS).