You are here
April 25, 2023
Drug may not prevent dangerously heavy bleeding after Cesarean delivery
At a Glance
Tranexamic acid didn't reduce maternal deaths or the need for blood transfusions in those undergoing either scheduled or emergency Cesarean delivery.
Further studies are needed to see if timing the drug differently could potentially help prevent dangerous bleeding.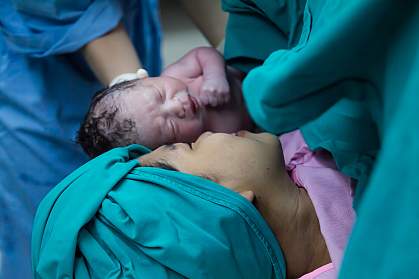 VectorDoc / Shutterstock
Hemorrhage, or excessive bleeding, is the second most common cause of death related to pregnancy in the U.S. Studies have found that a drug called tranexamic acid is an effective treatment for women who have dangerously heavy bleeding after giving birth, a condition called postpartum hemorrhage. Tranexamic acid has also proven useful for certain trauma patients. It slows the natural breakdown of blood clots in the body.
Researchers have wondered whether the drug could help prevent hemorrhages due to childbirth. Studies have found that giving tranexamic acid just after umbilical cord clamping doesn't prevent dangerous bleeding from a vaginal delivery. However, results for its use in Cesarean delivery have been inconclusive.
NIH-funded researchers led by Dr. Luis Pacheco from the University of Texas performed a large, nationwide clinical trial to help answer this question. They recruited 11,000 participants who either had a scheduled Cesarean delivery or required an emergency Cesarean delivery after attempting vaginal birth.
About half of the participants were randomly assigned to receive an injection of tranexamic acid within 10 minutes of umbilical cord clamping. The other half received a placebo injection. Any additional care was left to the discretion of the hospitals where birth took place.
The researchers compared the need for blood transfusions and maternal deaths between the tranexamic acid and placebo groups over the next seven days or until hospital discharge. Results were published on April 13, 2023, in the New England Journal of Medicine.
About half the participants in both treatment groups had a scheduled Cesarean delivery. These participants had a lower risk of hemorrhage than those who had an emergency Cesarean.
Overall, about 3% to 4% of participants in both groups experienced enough bleeding after Cesarean delivery to require a blood transfusion. No substantial difference was seen between the treatment groups. Only one maternal death occurred in the placebo group. No maternal deaths occurred in the tranexamic group.
The tranexamic acid group had a higher risk of infections after birth: 3.2% compared to 2.5% in the placebo group. Previous studies have not shown a higher risk of infection with tranexamic acid use. This finding needs to be confirmed by additional research.
"Our findings differ from those of previous trials, which were smaller and therefore did not have the statistical power to detect a difference in the need for blood transfusion between groups," says Dr. Monica Longo, an NIH researcher involved in the study. "The current study included participants from 31 birthing centers across the United States and found no benefit of the drug, compared to placebo."
It is possible that earlier administration of tranexamic acid, before incision, may still have benefit, but this has yet to be tested.
Related Links
References: Tranexamic Acid to Prevent Obstetrical Hemorrhage after Cesarean Delivery. Pacheco LD, Clifton RG, Saade GR, Weiner SJ, Parry S, Thorp JM Jr, Longo M, Salazar A, Dalton W, Tita ATN, Gyamfi-Bannerman C, Chauhan SP, Metz TD, Rood K, Rouse DJ, Bailit JL, Grobman WA, Simhan HN, Macones GA; Eunice Kennedy Shriver National Institute of Child Health and Human Development Maternal–Fetal Medicine Units Network. N Engl J Med. 2023 Apr 13;388(15):1365-1375. doi: 10.1056/NEJMoa2207419. PMID: 37043652.
Funding: NIH's Eunice Kennedy Shriver National Institute of Child Health and Human Development (NICHD).