You are here
February 28, 2023
Lowering the risk of mother's sepsis or death after childbirth
At a Glance
A single oral dose of a common antibiotic significantly decreased the risk of sepsis or death among women who had planned a vaginal birth.
The findings point to a low-cost approach to reduce maternal infections and deaths in developing countries.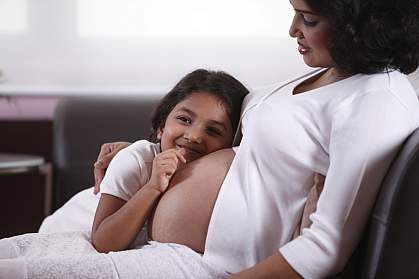 anythings / Shutterstock
Sepsis is a severe life-threatening immune response to infection or injury. It is a leading cause of maternal and newborn deaths worldwide.
An NIH-supported study previously found that infusions of the low-cost antibiotic azithromycin could significantly reduce the risk of infections among women who had a cesarean delivery. As a result, experts now recommend that women receive the antibiotic during cesarean delivery.
It's been unclear if the drug would have similar effects among mothers planning a vaginal birth. Two small studies have hinted that oral azithromycin might reduce infection and death among mothers and newborns after vaginal delivery.
To test the approach, an international research team launched a clinical trial that enrolled more than 29,000 women. All planned to have a vaginal birth. The trial was conducted in seven low- and middle-income countries in Africa, Asia, and Latin America. The research team was led by Drs. Alan T.N. Tita and Waldemar A. Carlo of the University of Alabama at Birmingham.
Participants were randomly assigned to received either a single azithromycin pill or a similar-looking placebo pill during labor. The study was double-blinded—neither the participants nor clinicians knew who was getting which pills. Results appeared in the New England Journal of Medicine on February 9, 2023.
Among the 14,526 participants who received azithromycin, 227 (1.6%) either died or developed sepsis within six weeks after delivery. In contrast, 344 of 14,637 (2.4%) who'd received the placebo died or developed sepsis. Azithromycin thus reduced the risk of maternal death or sepsis by about a third. Deaths were rare in both groups, occurring in 0.1% of participants overall. Sepsis arose in only 1.5% of those who got the antibiotic, compared with 2.3% in the placebo group.
Those who received azithromycin were also less likely to develop endometritis (infection of the lining of the womb) and other infections. They had fewer hospital readmissions and unscheduled health care visits as well.
The drug did not seem to offer any benefits nor cause harm to the newborns. Stillbirth, newborn sepsis, or death during the first month of life were similar in the antibiotic group (10.5%) and the placebo group (10.3%).
The study was originally designed to enroll up to 34,000 women. But the maternal benefits of azithromycin were so clear that the study was stopped early.
"We hope that our findings will be applied to help improve maternal care in low- and middle-income countries around the globe," Tita says.
Related Links
References: Azithromycin to Prevent Sepsis or Death in Women Planning a Vaginal Birth. Tita ATN, Carlo WA, McClure EM, Mwenechanya M, Chomba E, Hemingway-Foday JJ, Kavi A, Metgud MC, Goudar SS, Derman R, Lokangaka A, Tshefu A, Bauserman M, Bose C, Shivkumar P, Waikar M, Patel A, Hibberd PL, Nyongesa P, Esamai F, Ekhaguere OA, Bucher S, Jessani S, Tikmani SS, Saleem S, Goldenberg RL, Billah SM, Lennox R, Haque R, Petri W, Figueroa L, Mazariegos M, Krebs NF, Moore JL, Nolen TL, Koso-Thomas M; A-PLUS Trial Group. N Engl J Med. 2023 Feb 9. doi: 10.1056/NEJMoa2212111. Online ahead of print. PMID: 36757318.
Funding: NIH's Eunice Kennedy Shriver National Institute of Child Health and Human Development (NICHD); Foundation for the National Institutes of Health through the Maternal, Newborn, Child Health Discovery and Tools initiative of the Bill and Melinda Gates Foundation.