You are here
September 14, 2015
E-cigarettes May Affect Teen Tobacco Use
At a Glance
Students who reported using electronic cigarettes by the time they started high school were more likely to report later use of traditional tobacco products.
The finding highlights the importance of learning more about how e-cigarettes can affect teen smoking patterns.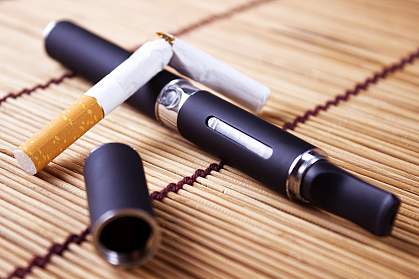 ndrea Carpedi/iStock/Thinkstock.
Electronic cigarettes—also called e-cigarettes or electronic nicotine delivery systems—are battery-operated devices that deliver nicotine in vapor. These devices heat a liquid solution of nicotine, flavorings, and other chemicals to produce an aerosol that the user inhales, a process called "vaping." They are often promoted as safer alternatives to cigarettes and other traditional combustible tobacco products. But while e-cigarettes can deliver nicotine with less of the chemicals known to cause cancer, their health effects haven't been well studied.
E-cigarettes are marketed in ways that can appeal to nonsmokers, especially children and adolescents. Such young users could become addicted to nicotine, which might lead them to try smoking tobacco products. To investigate these possible links, a team led by Dr. Adam M. Leventhal at the University of Southern California Keck School of Medicine examined data from a survey of high school students from 10 diverse public high schools in Los Angeles.
Their analysis included more than 2,500 students who reported they hadn't smoked any tobacco products when first surveyed at the start of ninth grade. After 6 and 12 months, the students were asked about their use of e-cigarettes, combustible cigarettes, full-size cigars, little cigars/cigarillos, blunts, and hookah water pipes. The work was funded in part by NIH's National Institute on Drug Abuse (NIDA) and National Cancer Institute (NCI). Results were published on August 18, 2015, in the Journal of the American Medical Association.
At the beginning of the study, 222 students reported they had tried e-cigarettes but no smokable tobacco products. The rest had used neither e-cigarettes nor smokable tobacco. During the first 6 months, 31% of those who had used e-cigarettes started smoking tobacco, compared to 8% of those who had never used e-cigarettes. Over the following 6 months, 25% of e-cigarette users reported they had smoked tobacco in the past 6 months, compared to 9% of those who hadn't used e-cigarettes.
"Recreational e-cigarette use is becoming increasingly popular among teens who have never smoked tobacco," Leventhal says. "While we cannot conclude that e-cigarette use directly leads to smoking, this research raises concerns that recent increases in youth e-cigarette use could ultimately perpetuate the epidemic of smoking-related illness."
"While teen tobacco use has fallen in recent years, this study confirms that we should continue to vigilantly watch teen smoking patterns," says NIDA Director Dr. Nora D. Volkow.
Related Links
References: Association of Electronic Cigarette Use With Initiation of Combustible Tobacco Product Smoking in Early Adolescence. Leventhal AM, Strong DR, Kirkpatrick MG, Unger JB, Sussman S, Riggs NR, Stone MD, Khoddam R, Samet JM, Audrain-McGovern J. JAMA. 2015 Aug 18;314(7):700-7. doi: 10.1001/jama.2015.8950. PMID: 26284721.
Funding: NIH's National Institute on Drug Abuse (NIDA) and National Cancer Institute (NCI); and the U.S. Food and Drug Administration, Center for Tobacco Products.