You are here
June 20, 2011
Early Childhood Program Has Enduring Benefits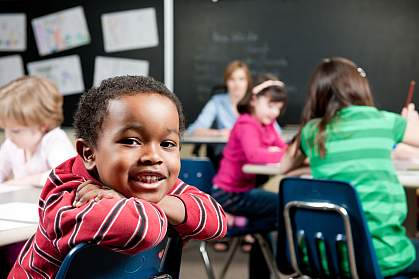 The longest study of its kind shows that an early education program for children from low-income families provides benefits that last well into adulthood.
The Child-Parent Centers (CPC) program in the Chicago Public School System was established in 1967. It provides intensive instruction in reading and math from pre-kindergarten through third grade, along with frequent educational field trips. The children's parents receive job skills training, parenting skills training, educational classes and social services. They volunteer in their children's classrooms, help with field trips and attend parenting support groups.
A previous analysis following the children up to age 24 found that those who had been enrolled in CPCs were more likely to go to college, get a full-time job and have health insurance. They were also less likely to go to prison and suffer from depressive symptoms. An economic analysis estimated that every dollar spent on the program generates $4 to $11 of benefits to the participants and society at large.
The latest analysis, led by Dr. Arthur J. Reynolds and Dr. Judy A. Temple of the University of Minnesota, Minneapolis, examined the outcomes of the program up to age 28. The study included almost 1,000 children enrolled in CPCs and 550 in alternative early childhood education programs for comparison. The work was funded by NIH's Eunice Kennedy Shriver National Institute of Child Health and Human Development (NICHD) and others.
The researchers reported in the online edition of Science on June 9, 2011, that children who participated in CPCs attained a higher level of education, income, socioeconomic status and health insurance coverage than the comparison children. The CPC participants also had lower rates of justice-system involvement and substance abuse. Relative to the comparison group, CPC preschool participants had a 22% lower rate of felony arrest, a 28% lower rate of incarceration and substance abuse, and a 20% higher level of moderate or better socioeconomic status (a composite of income and education).
Extended participation to second or third grade (4 to 6 years total) was linked to higher levels of education and socioeconomic status when compared to lesser participation (up to 3 years). For example, the extended program group had a 55% higher rate of on-time high school graduation and an 18% higher level of moderate or better socioeconomic status.
The new analysis also revealed some details that could guide the design of future intervention programs. The most consistent and enduring outcomes, the researchers found, were for preschool participants starting the program at ages 3 or 4. Males and children of high school dropouts particularly benefitted.
The goal of the CPC program is to give children and their families the skills to support a child's success in school and later in life. These findings show that, while there are limits to the benefits of the program, it appears to have a significant impact on a child's life and well-being that endures long after the program has ended.
"Unfortunately, we still spend very little on prevention," Reynolds says. "Yet early childhood programs like CPC are one of the most cost-effective of all social programs."
— by Harrison Wein, Ph.D.
Related Links