You are here
August 31, 2021
Early treatment with convalescent plasma for COVID-19 doesn't show benefit
At a Glance
COVID-19 convalescent plasma did not prevent the disease from worsening in high-risk patients who sought emergency room care within the first week of their symptoms.
The trial adds to others suggesting little benefit from using convalescent plasma to treat COVID-19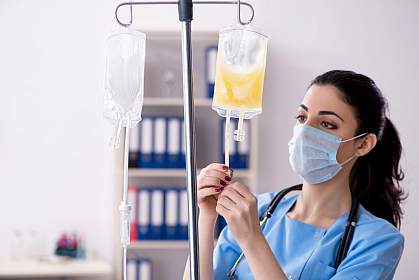 Elnur / Shutterstock
COVID-19 convalescent plasma is blood plasma collected from patients who have recovered from the virus. It's sometimes known as "survivor's plasma." Treating COVID-19 patients with convalescent plasma infusions was thought to help fight the virus. In theory, it could speed recovery by transferring antibodies that could block the virus. The approach is called passive immunization.
Studies had suggested that convalescent plasma treatment might lower the risk of death among hospitalized COVID-19 patients if administered early in the disease—before mechanical assistance was needed to help them breathe. Based on such findings, the FDA issued an Emergency Use Authorization, or EUA, in 2020 for treating hospitalized patients with COVID-19 convalescent plasma. The FDA concluded that its known and potential benefits outweighed its risks. However, it strongly encouraged further study to definitely assess whether convalescent plasma was effective.
A clinical trial led by Dr. Clifton Callaway at the University of Pittsburgh assessed the efficacy of COVID-19 convalescent plasma treatment for high-risk patients early in the disease. The study was supported by NIH's National Heart, Lung, and Blood Institute (NHLBI) and National Institute of Neurological Disorders and Stroke (NINDS), along with the Biomedical Advanced Research and Development Authority. Results were published in the New England Journal of Medicine on August 18, 2021.
The team enrolled more than 500 adults, 18 years of age or older, who came to emergency departments across the country with mild COVID-19 symptoms within a week of infection. All had risk factors for progressing to more severe disease. These included age and conditions like obesity, hypertension, diabetes, heart disease, and chronic lung disease. Participants were racially and ethnically diverse, with a median age of 54 years. They were not ill enough to be hospitalized and could be treated as outpatients.
The participants were randomly assigned to receive either COVID-19 convalescent plasma or placebo (a salt solution with multivitamins). The researchers compared events in both groups within 15 days of treatment. These included seeking further emergency or urgent care, hospital admission, or death.
The research team found no significant difference in disease progression between the two groups. Disease progression occurred in 77 (30%) in the COVID-19 plasma group compared to 81 patients (31.9%) in the placebo group. There were no differences in severity of the worst illness, number of hospital-free days, or death. The trial was stopped in February 2021 due to the lack of treatment efficacy.
"The results show that convalescent plasma does not appear to benefit this particular group," says study co-author Dr. Nahed El Kassar of NHLBI. "But the findings answer an important clinical question and may help bring researchers a step closer to finding more effective treatments against this devastating disease."
The results from this study are similar to three other randomized trials in COVID-19 convalescent plasma. In contrast, one clinical trial showed that this intervention could benefit older adults in nursing home when administered very early. COVID-19 convalescent plasma may still benefit different populations, and additional studies are ongoing or planned.
Related Links
References: Early Convalescent Plasma for High-Risk Outpatients with Covid-19. Korley FK, Durkalski-Mauldin V, Yeatts SD, Schulman K, Davenport RD, Dumont LJ, El Kassar N, Foster LD, Hah JM, Jaiswal S, Kaplan A, Lowell E, McDyer JF, Quinn J, Triulzi DJ, Van Huysen C, Stevenson VLW, Yadav K, Jones CW, Kea B, Burnett A, Reynolds JC, Greineder CF, Haas NL, Beiser DG, Silbergleit R, Barsan W, Callaway CW; SIREN-C3PO Investigators. N Engl J Med. 2021 Aug 18. doi: 10.1056/NEJMoa2103784. Online ahead of print. PMID: 34407339.
Funding: NIH's National Heart, Lung, and Blood Institute (NHLBI) and National Institute of Neurological Disorders and Stroke (NINDS); Biomedical Advanced Research and Development Authority (BARDA).