You are here
April 13, 2015
Ebola Vaccine Candidate Promising in Early Study
At a Glance
An experimental Ebola vaccine called VSV-ZEBOV was safe and produced robust antibody responses in all 40 of the healthy adults who received it.
The vaccine is 1 of 2 experimental Ebola vaccines being tested in a clinical trial now enrolling volunteers in Liberia.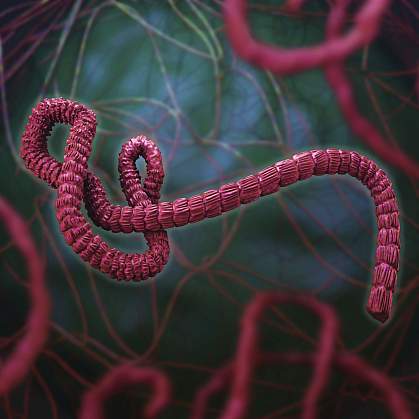 nopparit/iStock/Thinkstock
The Ebola outbreak in West Africa that began in 2014 is slowly coming under control. However, no licensed therapies or vaccines yet exist to help control or prevent future Ebola outbreaks.
Researchers at NIH and the Walter Reed Army Institute of Research (WRAIR) conducted an early-stage clinical trial of an investigational Ebola vaccine called VSV-ZEBOV. The vaccine was developed by scientists at the Public Health Agency of Canada. VSV-ZEBOV is based on a genetically modified and attenuated vesicular stomatitis virus, a virus that mainly affects cattle. A viral gene was replaced with a gene segment from a key protein in the Zaire species of Ebola virus. The vaccine doesn't contain the whole Ebola virus and so can't cause Ebola infections.
A report online in the New England Journal of Medicine on April 1, 2015, summarized results of the first 52 volunteers enrolled in the study — 26 at the NIH Clinical Center and 26 at the WRAIR clinic. Forty of the participants received the experimental vaccine at 1 of 2 different dosages. The remaining 12 received a placebo injection of saline solution. The NIH trial was led by Drs. John H. Beigel and Richard T. Davey Jr. of NIH's National Institute of Allergy and Infectious Diseases (NIAID). Drs. Jason A. Regules and Stephen J. Thomas headed the trial at WRAIR.
Most volunteers who received the vaccine developed antibodies against the Zaire species of Ebola virus within 14 days of injection. All developed this sign of an immune system response by 28 days after vaccine injection. The immune response was substantially higher in those who received the higher vaccine dose.
The volunteers tolerated the vaccine well. The most common side effects were injection site pain and transient fever that appeared and resolved within 12 to 36 hours after vaccination. The volunteers were asked about new arthritis symptoms, since some volunteers in another study of this candidate vaccine reported arthritis symptoms starting in the second week after vaccination. No episodes were reported by any of the volunteers in the NIH-WRAIR study.
"The prompt, dose-dependent production of high levels of antibodies following a single injection and the overall favorable safety profile of this vaccine make VSV-ZEBOV a promising candidate that might be particularly useful in outbreak interventions," Davey says.
VSV-ZEBOV is one of 2 experimental vaccines now being tested in a Phase 2/3 study now enrolling volunteers in Liberia. The information from this study was available to the designers of that trial and informed their decision to use VSV-ZEBOV at the higher dosage level.
Related Links
References: A Recombinant Vesicular Stomatitis Virus Ebola Vaccine - Preliminary Report. Regules JA, Beigel JH, Paolino KM, Voell J, Castellano AR, Muñoz P, Moon JE, Ruck RC, Bennett JW, Twomey PS, Gutiérrez RL, Remich SA, Hack HR, Wisniewski ML, Josleyn MD, Kwilas SA, Van Deusen N, Mbaya OT, Zhou Y, Stanley DA, Bliss RL, Cebrik D, Smith KS, Shi M, Ledgerwood JE, Graham BS, Sullivan NJ, Jagodzinski LL, Peel SA, Alimonti JB, Hooper JW, Silvera PM, Martin BK, Monath TP, Ramsey WJ, Link CJ, Lane HC, Michael NL, Davey RT Jr, Thomas SJ; rVSVΔG-ZEBOV-GP Study Group. N Engl J Med. 2015 Apr 1. [Epub ahead of print]. PMID: 25830322.
Funding: NIH's National Institute of Allergy and Infectious Diseases (NIAID) and National Cancer Institute (NCI); the Defense Threat Reduction Agency; and the Joint Vaccine Acquisition Program.