You are here
March 12, 2007
ECG Abnormalities Warn of Heart-Related Risks in Older Women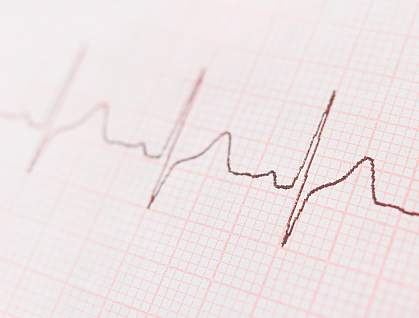 Even minor irregularities on a standard electrocardiogram (ECG) test can be a sign of increased risk for cardiovascular events or death in seemingly healthy older women. Previous studies have shown the predictive value of ECG in men. The new findings come from the first large-scale analysis of ECG forecasting in postmenopausal women with no history of heart disease.
ECG tests measure the electrical activity of the heart and detect abnormalities. The simple, noninvasive procedure involves attaching electrodes to the skin in 12 locations — including the chest, wrists and ankles — and then recording electrical impulses.
To assess EGC's predictive abilities in women, Dr. Pablo Denes of Northwestern University and his colleagues drew on the extensive clinical data collected as part of the Women's Health Initiative, a series of clinical studies launched in 1991 and funded by NIH's National Heart, Lung and Blood Institute (NHLBI). The researchers identified 14,749 postmenopausal women who had participated in the initiative's hormone replacement trial and who had no previous cardiovascular problems. At the start of the study, 66% of the women had normal ECG recordings, whereas 28% had minor and 6% had major abnormalities. Follow-up evaluations continued for an average of about five and a half years.
In the March 7, 2007, issue of the Journal of the American Medical Association, the researchers reported that, by the end of the study, women who had minor ECG abnormalities at the start were twice as likely as women with normal ECGs to have had a significant coronary heart disease (CHD) event such as a heart attack or heart-related death. Women who had normal ECGs at the start had an annual rate of CHD events of 21 per 10,000 women. In contrast, women with minor ECG abnormalities had CHD rates of 40 in 10,000, and those with major abnormalities had rates of 75 in 10,000. The researchers also noted that, of the women who had normal ECGs at the start, 5% had developed new ECG abnormalities within three years; the annual rate of CHD events for these women was 85 per 10,000 women.
Denes and his colleagues analyzed the data to see whether hormonal treatment affected the predictive value of ECGs. About half of the study participants had been receiving hormone replacement as part of the trial, which was originally designed to examine whether estrogen plus progestin therapy might reduce cardiovascular events. The trial enrolled participants from 1993 to 1998 but was halted early, in July 2002, when scientists found that CHD, stroke, breast cancer and blood clot rates rose significantly in women taking hormone therapy. Denes and his colleagues found that hormonal treatment did not affect the predictive value of ECG readings.
Because ECG tests are low-cost and easily administered, the researchers say they may help to assess risk in seemingly healthy older women. Abnormal readings might readily identify patients most likely to benefit from further evaluation, intensive therapies or lifestyle changes to reduce risk.
— by Vicki Contie
Related Links