You are here
May 19, 2008
Elevated Blood Sugar Levels Boost Pregnancy Risks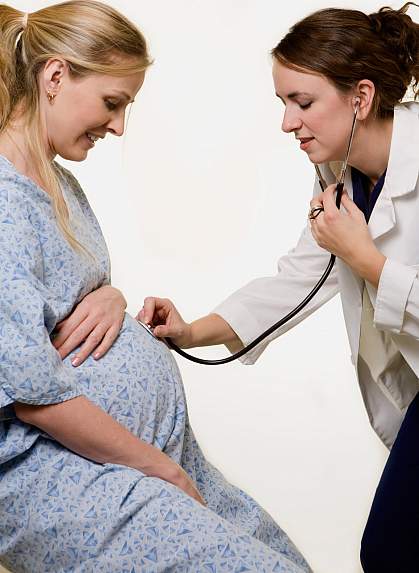 Pregnant women whose blood sugar levels are elevated—but not high enough to be considered diabetes—face an increased risk for Cesarean delivery, high-birthweight newborns and other problems normally seen in women with gestational diabetes.
Gestational diabetes affects about 5% of all U.S. pregnancies, putting both mother and fetus at risk for a variety of health problems. The condition is a temporary form of diabetes that usually arises around the 6th month of pregnancy and resolves a few weeks after delivery. The criteria for diagnosing gestational diabetes—blood sugar levels rising above a certain level—were developed more than 4 decades ago. But in recent years, some scientists have questioned whether expectant mothers with normal but elevated blood sugar might also be at risk for diabetes-related problems.
To address this issue, an international research team conducted a 7-year study of more than 23,000 pregnant women. Funding for the study came primarily from NIH's Eunice Kennedy Shriver National Institute of Child Health and Human Development (NICHD), with additional support from NIH's National Institute of Diabetes and Digestive and Kidney Diseases (NIDDK) and National Center for Research Resources (NCRR), as well as other organizations. The results were reported in the May 8, 2008, issue of the New England Journal of Medicine.
Study participants were given oral glucose between the 24th and 32nd weeks of pregnancy to assess their bodies' abilities to keep blood sugar levels in check. None of the women had been diagnosed with diabetes before their pregnancies.
The researchers found that the higher the mother's blood sugar, the more likely the baby would be unusually large, above the 90th percentile for birth weight, which can create problems during delivery. The heightened risks remained even after the scientists accounted for other potential contributors to pregnancy-related health risks, such as older maternal age, obesity and high blood pressure.
The scientists also reported that higher maternal blood sugar appeared to slightly increase the likelihood that infants would be born prematurely, delivered by Cesarean section or experience a medical emergency during birth called shoulder dystocia in which the baby's shoulder becomes lodged inside the mother's body, effectively halting the birth process.
The researchers declined to recommend acceptable blood sugar levels for pregnant women. They found no precise threshold where elevated blood sugar boosted the health risks uncovered in the study. Rather, the risks seemed to rise gradually, corresponding with increases in the women's blood sugar levels. Health professionals from around the world will meet in June 2008 to discuss the findings and make recommendations.
"These important new findings highlight the risks of elevated blood sugar levels during pregnancy," said NICHD Director Dr. Duane Alexander. "NIH-supported studies now in progress will provide guidance on how to manage them. Until the results of those studies are available, all pregnant women should consult a health care professional about being screened for diabetes during pregnancy."
Related Links