You are here
October 13, 2006
Experimental Ragweed Allergy Therapy Uses Fewer Shots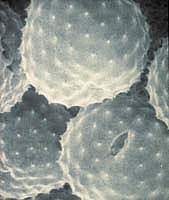 NIH's National Institute of Allergy and Infectious Diseases.
An experimental treatment for ragweed allergies requires fewer injections than standard immunotherapy and leads to a marked reduction in symptoms that lasts for at least a year after therapy has stopped.
As many as 40 million Americans suffer from seasonal allergic rhinitis (seasonal allergies) caused by airborne pollens produced by grasses, trees and weeds. Ragweed is one of the most common pollens in the U.S. Doctors treat mild and moderate ragweed allergies with antihistamines or nasal corticosteroids. If people with allergies don't respond to these treatments or experience severe symptoms, the next therapeutic option is immunotherapy, a course of injections of the allergen (the compound causing the allergy). Immunotherapy is often effective, but it can require frequent injections over a three to five year period, something many people aren't willing to endure. The injections can also, in rare cases, cause severe and sometimes life-threatening allergic reactions.
Dr. Peter Creticos, medical director of the Johns Hopkins Asthma and Allergy Center, and his research team set out to find a better way to treat seasonal allergies. Their work was supported by the Immune Tolerance Network, which is funded by NIH and the Juvenile Diabetes Research Foundation International. The team created an experimental therapy by combining the major ragweed allergen, Amb a 1, with a short, synthetic sequence of DNA that stimulates the immune system. The therapeutic agent was prepared by Dynavax Technologies Corp.
Twenty-five adult volunteers who had seasonal allergies to ragweed pollen received six injections, each a week apart, before the fall 2001 ragweed season. Fourteen received the study drug and 11 got a placebo for comparison. Throughout the 2001 and 2002 ragweed seasons, they were monitored for allergy-related symptoms.
The results were published in the October 5 issue of The New England Journal of Medicine. Compared with the placebo recipients, people that received the experimental therapy had dramatically reduced allergy symptoms even through the 2002 ragweed season, over a year after therapy had ended. The therapy caused only minor side effects.
"For almost 100 years, we've been using the tedious process of giving allergy sufferers one to two shots a week for up to four to five years to ensure its success," Creticos says. "This study is an important immunotherapy advance in that we've shown you can induce long-lasting relief from allergic rhinitis with just a few weeks of injections."
These results are based on a small number of volunteers, and the long-term safety of the therapy is unknown. Additional clinical trials with longer-term follow-up will be needed to adequately assess the therapy's safety and effectiveness.
Related Links