You are here
January 14, 2020
Exposure to common insecticides associated with risk of death
At a Glance
People with higher exposures to common insecticides called pyrethroids had an increased risk of death in the years following the measurements.
More research is needed to understand if there is a direct link between exposure and risk of death, and to understand the potential mechanisms at work.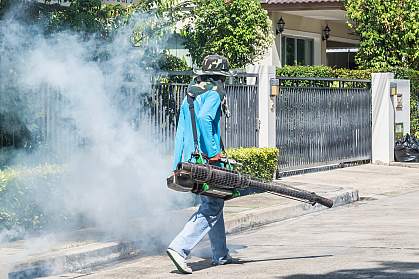 Chinnapong / iStock / Getty Images Plus
Pyrethroid pesticides are the second-most commonly used class of insecticides in the world. In addition to use in agriculture, pyrethroids are widely applied for pest control in public spaces and in homes. They play an important role in preventing the spread of insect-borne diseases, such as the West Nile and Zika viruses. People are exposed to pyrethroids mainly through food, such as fruits and vegetables that have been sprayed with them, and dust in households that apply pyrethroids for pest control.
Pyrethroids have been considered relatively safe for people. However, the effects of long-term exposure on human health haven't been studied in detail. Pyrethroids can interfere with nerve and brain function. Recent research in animals suggests that they may have harmful effects on the cardiovascular system and other organs.
To look more closely at pyrethroid exposure nationwide, researchers led by Dr. Wei Bao from the University of Iowa used data from the U.S. National Health and Nutrition Examination Survey, or NHANES. More than 2,000 adults aged 20 and older who participated in that study had urine samples collected between 1999 and 2002. The CDC's National Center for Environmental Health tested those urine samples for compounds produced as the body breaks down pyrethroids. These compounds can serve as markers of exposure.
The research team used information from the National Death Index on deaths that occurred from the time of the sampling until the end of 2015. There were about 250 deaths over a median of 14.4 years. The researchers compared the risk of death from cardiovascular disease, cancer, or from any cause between people with the lowest, middle, and highest exposures to pyrethroids.
The study was funded by NIH's National Institute of Environmental Health Sciences (NIEHS). Results were published on December 30, 2019, in JAMA Internal Medicine.
Overall, about 70% of the participants had detectable levels of a compound called 3-phenoxybenzoic acid (3-PBA) in their urine. This compound is produced by the breakdown of two common pyrethroids: permethrin and cypermethrin. Other compounds related to the breakdown of pyrethroids were less frequently found in the urine samples.
People with the highest exposure to pyrethroids were 56% more likely to die from any cause and three times as likely to die from cardiovascular disease during the follow-up period than those with the lowest exposure. These associations were seen after the investigators accounted for factors such as age, sex, race and ethnicity, income and education level, smoking, alcohol use, physical activity, and diet. The association between pyrethroid exposure and overall risk of dying was stronger among obese individuals.
The team didn't see an increased risk of death from cancer with increasing exposure to pyrethroids.
This observational study doesn't prove that pyrethroid exposure raises the risk of death, the authors caution. "These results indicate the likelihood of a link," Bao says, "but more research is needed to replicate these findings and understand what biological mechanisms might be responsible."
—by Sharon Reynolds
Related Links
References: Association Between Exposure to Pyrethroid Insecticides and Risk of All-Cause and Cause-Specific Mortality in the General US Adult Population. Bao W, Liu B, Simonsen DW, Lehmler HJ. JAMA Intern Med. 2019 Dec 30. doi: 10.1001/jamainternmed.2019.6019. [Epub ahead of print]. PMID: 31886824.
Funding: NIH's National Institute of Environmental Health Sciences (NIEHS).