You are here
February 13, 2018
Fetal alcohol spectrum disorders prevalent in U.S. communities
At a Glance
A new study estimates that at least 1 to 5% of children in select communities have fetal alcohol spectrum disorders and suggests the prevalence may be even higher.
The findings are more accurate than previous estimates and highlight the need for strategies to address this problem.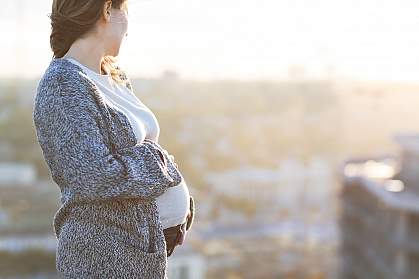 Petrenkod/iStock/Thinkstock
Fetal Alcohol Spectrum Disorders (FASD) is an umbrella term for a range of health effects caused by prenatal alcohol exposure. These effects include growth deficiencies, facial abnormalities, and organ damage, including to the brain. Brain damage caused by prenatal alcohol exposure can result in a range of neurobiological deficits, which may contribute to physical, cognitive, behavioral, and social challenges throughout life.
Previous studies estimated that FASD occurs in about 1% of children. However, these estimates were based on small study populations or single communities. A research consortium co-led by Dr. Philip May of the University of North Carolina and Dr. Christina Chambers of the University of California, San Diego studied children from across four sites chosen to reflect diverse U.S. communities. These were located in the Midwest, Rocky Mountain, Southeast, and Pacific Southwest. The study was supported by NIH's National Institute on Alcohol Abuse and Alcoholism (NIAAA). Results were published in JAMA on February 6, 2018.
The researchers established standardized classification criteria for FASD based on facial features, growth, and neurodevelopmental performance. They collected data between 2010 and 2016 on the children. First-graders in public and private schools were recruited across two academic years and evaluated based on the FASD criteria. Prenatal alcohol exposure was assessed by interviewing mothers or other close relatives.
More than 13,000 children were enrolled in the participating first grade classes. Of these, more than 6,000 children were evaluated, and 222 of them were diagnosed with FASD.
Conservative estimates for the prevalence of FASD at the four sites ranged from 1.1 to 5.0%. These estimates assumed that the first grade children who weren't evaluated didn't have FASD. Assuming that the rates of FASD among the children who weren't evaluated were the same as those who were evaluated, the estimated prevalence of FASD was higher, ranging from 3.1 to 9.9% among the sites.
Of the 222 children diagnosed with FASD, only two had been previously diagnosed, although many parents and guardians were aware of the children's learning and behavioral challenges. This finding suggests that children with FASD often go undiagnosed or misdiagnosed.
"Prenatal alcohol exposure is a leading preventable cause of developmental disabilities worldwide," says NIAAA Director Dr. George F. Koob. "Estimating the prevalence of FASD in the United States has been complex due to the challenges in identifying prenatally exposed children. The findings of this study confirm that FASD is a significant public health problem, and strategies to expand screening, diagnosis, prevention, and treatment are needed to address it."
Related Links
References: Prevalence of Fetal Alcohol Spectrum Disorders in 4 US Communities. May PA, Chambers CD, Kalberg WO, Zellner J, Feldman H, Buckley D, Kopald D, Hasken JM, Xu R, Honerkamp-Smith G, Taras H, Manning MA, Robinson LK, Adam MP, Abdul-Rahman O, Vaux K, Jewett T, Elliott AJ, Kable JA, Akshoomoff N, Falk D, Arroyo JA, Hereld D, Riley EP, Charness ME, Coles CD, Warren KR, Jones KL, Hoyme HE. JAMA. 2018 Feb 6;319(5):474-482. doi: 10.1001/jama.2017.21896. PMID: 29411031.
Funding: NIH's National Institute on Alcohol Abuse and Alcoholism (NIAAA)