You are here
December 17, 2007
Fitness Predicts Longevity in Older Adults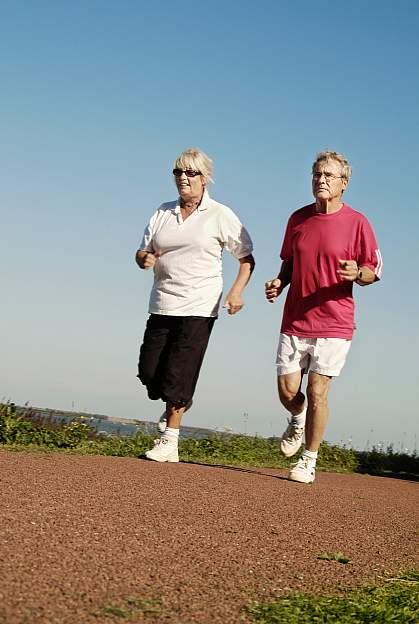 Being physically fit after age 60 helps you live longer, regardless of your body's fat content, according to a new study.
Although earlier research had suggested that obesity and low physical fitness each can increase the risk of dying during middle age, it was unclear whether this was also true in later years. In a new report from an ongoing study, Dr. Xuemei Sui of the University of South Carolina and her colleagues examined the links between fitness, fatness and mortality in older adults.
The scientists looked at more than 2,600 men and women, age 60 or older, who were participating in the Aerobics Center Longitudinal Study, funded by NIH's National Institute on Aging (NIA) and National Heart, Lung and Blood Institute (NHLBI). Participants walked on a treadmill to determine their fitness levels. Their fat levels, or adiposity, were assessed by measuring their waist circumference, percent body fat and body mass index (a ratio of weight to height). The results were reported in the December 5, 2007, issue of the Journal of the American Medical Association.
During an average follow-up period of 12 years, 450 of the participants died. They were generally older, had lower fitness levels and had more cardiovascular risk factors, such as high blood pressure, high cholesterol and diabetes, than survivors. The percent of body fat did not appear to be related to the risk of dying. However, greater fitness, lower body mass index and lower waist circumference each reduced the risk of death.
The researchers grouped the participants into 5 categories based on their fitness levels. The least-fit group had a death rate 4 times higher than the fittest. Even those in the low-fitness group fared much better than the least-fit; the least-fit participants were twice as likely to die as those in the low-fitness group. In most cases, the death rates for those with higher fitness levels were less than half of the rates for those who were least fit but weighed similar amounts.
The researchers say their findings suggest that you don't need to be thin to benefit from regular physical activity. Regular activity — like brisk walking for at least 30 minutes most days of the week — will keep most older adults out of the lowest fitness category and possibly help prolong their lives. A key to healthy aging is being physically active, regardless of your weight.
— by Vicki Contie
Related Links