You are here
October 27, 2006
Gene Affects Pain Sensitivity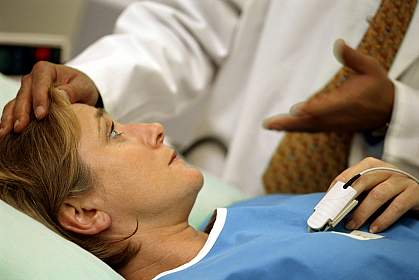 Researchers have identified a gene that affects both a person's sensitivity to short-term (acute) pain and their risk of developing chronic pain after a kind of back surgery.
A team led by Dr. Clifford J. Woolf of Massachusetts General Hospital and Harvard Medical School in Boston identified the gene, called GCH1, which codes for an enzyme called GTP cyclohydrolase. Dr. Mitchell B. Max of NIH's National Institute of Dental and Craniofacial Research was part of the research team; the work was also funded by NIH's National Institute on Alcoholism Abuse and Alcoholism, NIH's National Institute of Neurological Disorders and Stroke and other organizations.
The researchers explain in the October 22, 2006, advance online publication of Nature Medicine that they identified GCH1 by looking for genes that underwent significant changes in activity after sciatic nerve injury. GCH1 is one of several genes that code for enzymes needed to produce a chemical called tetrahydrobiopterin (BH4). BH4 is involved in producing dopamine and several other nerve-signaling chemicals.
The investigators tested the effects of GTP cyclohydrolase and BH4 in several animal models of pain. They found that rats with pain caused by nerve damage had greatly increased levels of GCH1 gene activity and BH4, and that injecting a GTP cyclohydrolase inhibitor called DAHP alleviated hypersensitivity to pain in animal models. Injecting BH4 greatly increased pain sensitivity.
The researchers looked for GCH1 gene variations in people and found that a specific variant of the gene protected against development of chronic pain in people who had participated in a study of a surgery for back pain. About 28% of the people in the study had at least one copy of the pain-protective variant of the gene. People with two copies of the protective version of GCH1 had the lowest risk of developing chronic pain, those with one copy had an intermediate risk and those with no copies had the highest risk.
The researchers went on to show that the gene variant appeared to reduce acute pain in normal volunteers. Those with two copies of the protective gene variant were less sensitive to temporary pain induced by pressure and other stimuli than those with one or no copies.
"This is a completely new pathway that contributes to the development of pain," Dr. Woolf says. "The study shows that we inherit the extent to which we feel pain, both under normal conditions and after damage to the nervous system."
The GTP cyclohydrolase inhibitor used in this study, DAHP, is not very strong and is unlikely to be useful as a human drug, Woolf says. Researchers are now looking for other substances that might work as GTP cyclohydrolase inhibitor drugs in humans.
Dr. Woolf and his colleagues are also planning studies to learn how GCH1 regulates pain. They hope to identify other gene variants that affect pain sensitivity and the risk of chronic pain. This gene accounts for some of the inherited differences in pain, but other genes likely also play a role.
Related Links