You are here
August 19, 2013
Genes Help Predict Response to Alcoholism Treatment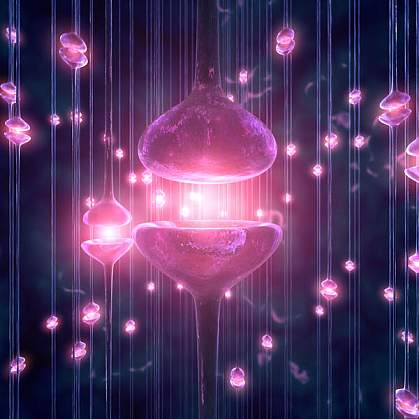 A set of 5 genetic variants can help predict whether an experimental treatment for alcohol dependence will succeed. The finding is another step toward personalized therapy for alcoholism.
The chemical messenger serotonin plays a key role in mediating the rewarding effects of alcohol. A protein called the serotonin transporter binds serotonin in the space between brain cells and brings it back into cells for reuse. In previous work, Dr. Bankole Johnson at the University of Virginia and his colleagues found a link between drinking intensity and variations in the gene encoding this protein.
Johnson and his team also found that the drug ondansetron — currently used to prevent nausea and vomiting — might also help treat some people for alcoholism. The researchers showed that the response to ondansetron among people with alcohol dependence is influenced by variations in the serotonin transporter gene.
Ondansetron, however, doesn't directly bind serotonin transporter molecules. The drug works by blocking specific serotonin receptors, called 5-HT3 receptors, on the surface of brain cells. The scientists reasoned that genetic variations in this receptor might also influence the effectiveness of ondansetron.
In their latest study, the scientists analyzed tiny variations called single nucleotide polymorphisms (SNPs) in the serotonin receptor genes of nearly 300 alcohol-dependent people. All were participating in a clinical trial of ondansetron. The research was funded by NIH's National Institute on Alcohol Abuse and Alcoholism (NIAAA) and National Institute on Drug Abuse (NIDA). Results appeared online on July 30, 2013, in the American Journal of Psychiatry.
The scientists found that 3 variants in the serotonin receptor were associated with the effectiveness of ondansetron treatment. Among participants with 1 or more of these variants, those taking ondansetron had an average of 2.5 fewer drinks per day, 20% fewer heavy drinking days and 18% more days without a drink than those taking an inactive placebo.
Together with the 2 serotonin transporter variants previously identified, these 5 variants could be used to help identify which people with alcohol dependence would best benefit from ondansetron treatment. About 34% of participants carried at least one of the 5 genetic variants. Which combination of these 5 variants the patients carried influenced the ondansetron treatment outcome.
"This study is another important step toward personalized treatments for alcohol dependence," says NIAAA Acting Director Dr. Kenneth R. Warren. "A personalized approach based on a person's genetic makeup is increasingly being investigated for delivering optimum treatment to the 'right' patient."
"Multi-site, larger studies are about to begin to progress this work," Johnson adds.
Related Links
References: Am J Psychiatry. 2013 Jul 30. doi: 10.1176/appi.ajp.2013.12091163. [Epub ahead of print]. PMID: 23897038.
Funding: NIH's National Institute on Alcohol Abuse and Alcoholism (NIAAA) and National Institute on Drug Abuse (NIDA).