You are here
January 29, 2007
Genetic Signature Marks Breast Cancer Prognosis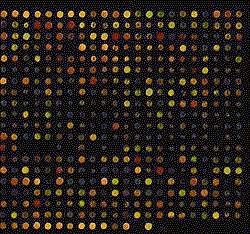 Researchers have identified a unique set of genes — a genetic signature — that may help to spot cancers that are more likely to spread or prove deadly. Originally identified in breast cancer cells, the genetic signature also shows promise for predicting chances of survival or cancer recurrence in patients with lung, prostate or a common childhood brain cancer.
The new genetic signature, discovered by scientists at Stanford University and the University of Michigan, is the latest among several recently discovered gene signatures for breast cancer. Gene signatures show the unique sets of genes that are turned on, or expressed, in particular cells. With further study, gene signatures may help doctors determine the best course of care for individual patients, saving more aggressive therapies for those at greatest risk.
Stanford's Dr. Michael F. Clarke and his colleagues, supported in part by NIH's National Cancer Institute (NCI), focused on a small subtype of tumor-causing breast cancer cells that they'd discovered in 2003. The researchers used gene chips to compare the active genes in the tumor-causing cancer cells to those in normal breast cells. Their analysis revealed a genetic signature of 186 genes that were highly active only in the tumor-causing cells.
As reported in the January 18, 2007, issue of the New England Journal of Medicine, Clarke and his colleagues tested the clinical potential of the new genetic signature by searching for the 186 genes in databases that contain detailed information on the genes that are expressed in patients' tumor cells. Based on their analysis, the genetic signature could help determine the 10-year prognosis for women who had already been diagnosed high-risk breast cancer. Of the women who would have been deemed to have a good prognosis because they lacked activation of the signature genes, only 13% had recurrence of cancer, compared with 41% recurrence among those who had an active gene signature. The researchers found that their genetic signature was especially predictive when combined with another breast cancer signature identified in 2005 by an international team of scientists.
Small test studies suggested that the new genetic signature may also help predict 5-year survival and relapse rates for patients with lung cancer, prostate cancer or medulloblastoma, a type of brain cancer. The researchers speculate that the new genetic signature may be predictive for several cancers because it detects the "genetic fingerprints" that create aggressive tumors.
Further research will be needed to test the new genetic signature's effectiveness directly in the clinic. Many other genetic signatures are also being developed and tested for various types of cancer.
— by Vicki Contie
Related Links