You are here
December 17, 2012
Genomic Technology Detects Fetal Problems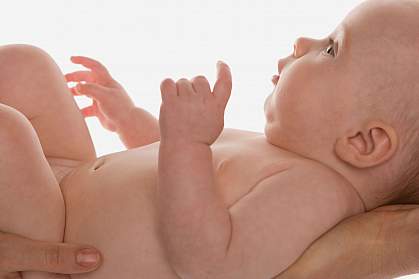 Two new studies show the potential of a genomic technique to help spot abnormalities in fetuses that conventional methods can't. One research team used the technology in prenatal testing. Another showed that it could help detect the reasons for stillbirths. The approach might allow better planning for early interventions.
Some pregnant women have their fetuses tested for birth defects prenatally (while still in the womb). The testing is most often used by women who are older than 35 years of age, those in whom screening tests reveal particular risks and those with a family history of certain conditions. Doctors typically examine an individual's set of chromosomes—the structures that contain our DNA—under a microscope. The technique, called karyotyping, can reveal abnormalities in chromosome shapes or numbers. Karyotyping is also used to investigate the reason for pregnancies that end in stillbirth—the death of a fetus in the womb at or after the 20th week of pregnancy.
Karyotyping, however, requires cells to be grown in culture and is often not possible in a stillbirth, so researchers have been seeking an alternative. In the new studies, scientists supported by NIH's Eunice Kennedy Shriver National Institute of Child Health and Human Development (NICHD) tested a different approach, called microarray analysis. DNA microarray chips are used to detect missing segments of chromosomes (deletions) or additional segments (duplications) that may be too small to be seen by karyotype. The studies appeared together on December 6, 2012, in the New England Journal of Medicine.
One team led by Dr. Ronald J. Wapner of Columbia University Medical Center enrolled over 4,400 women for prenatal testing. The women were selected because of advanced age, an abnormal result in Down's syndrome screening, anomalies on sonograms or other reasons. Microarray analysis, the researchers found, revealed genetic conditions in 2.5% of the pregnancies with a normal karyotype. Among cases with sonogram anomalies, microarrays detected genetic problems in 6% of those with a normal karyotype.
Another group led by Dr. Uma Reddy of NICHD compared microarrays to karyotypes in more than 500 stillbirths. Shortly after each stillbirth, blood was collected from the umbilical cord and tissue collected from the fetus and placenta. Microarray analysis yielded results in 87% of the stillbirths, compared to 70% for karyotype analysis. Microarrays revealed more cases with genetic abnormalities than karyotyping (8% vs. 6%). Among stillbirths with a major birth defect, microarrays detected about 54% more abnormalities than karyotyping (30% vs. 19%).
"Previous studies suggest that 25% to 60% of stillbirths are unexplained," Reddy says. "Microarray may explain genetic causes of stillbirths that previously were not identifiable by karyotype."
These studies demonstrate how microarrays might help parents and health professionals better plan and manage both current and future pregnancies. However, the technique is more expensive than karyotyping. In prenatal testing, microarrays may be especially useful when sonograms detect a problem in the fetus. For stillbirths, it might best be used when the karyotype has failed or when there is a birth defect.
The studies also revealed genetic variants that haven't yet been examined. Wapner's group will follow the children in their study to understand the significance of these variants. Reddy and other researchers continue to investigate how genetic variations contribute to stillbirth.
—by Harrison Wein, Ph.D.
Related Links
References: N Engl J Med. 2012 Dec 6;367(23):2175-84. doi: 10.1056/NEJMoa1203382. PMID: 23215555.
N Engl J Med. 2012 Dec 6;367(23):2185-93. doi: 10.1056/NEJMoa1201569. PMID: 23215556.