You are here
November 24, 2008
Ginkgo Study Fails To Find Benefit in Preventing Dementia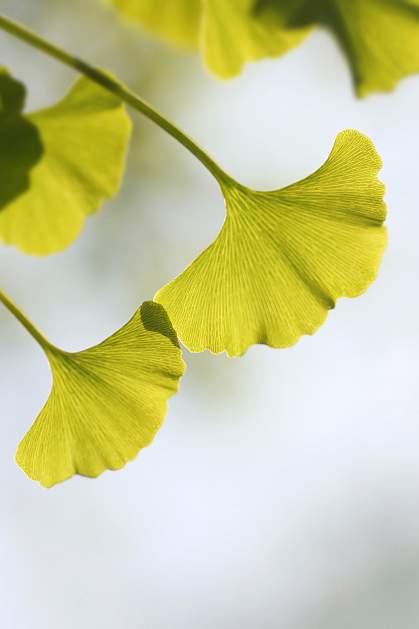 The dietary supplement Ginkgo biloba was found to be ineffective in reducing the development of dementia and Alzheimer's disease in older people, according to a new study.
Gingko is now one of the top 10 natural products used by Americans. Extracts from the ginkgo leaf are used to make tablets, capsules or teas. Among its many purported benefits are improving memory and helping to prevent Alzheimer's disease and other types of dementia. These claims, however, hadn't been rigorously tested in large clinical studies.
A research team led by Dr. Steven T. DeKosky, formerly of the University of Pittsburgh and now at the University of Virginia in Charlottesville, conducted the Ginkgo Evaluation of Memory (GEM) study at 4 clinical sites over the course of 8 years. GEM, co-funded by 5 NIH components and other sources, tested whether ginkgo could decrease the incidence of all types of dementia and reduce the incidence of Alzheimer's disease. The study also evaluated ginkgo's effects on overall cognitive decline, functional disability, incidence of cardiovascular disease and stroke, and total mortality.
The study enrolled 3,069 participants, age 75 or older, with normal cognition or mild cognitive impairment. Those who already had dementia were excluded from participating. After extensive medical and neuropsychological screening, the participants were randomly assigned to receive twice-daily doses of either 120 milligrams of ginkgo extract or an identical-appearing placebo. The dose was selected based on current dosage recommendations and prior clinical studies. The products used in the study were supplied by Schwabe Pharmaceuticals, a German company.
The results appeared in the November 19, 2008, issue of the Journal of the American Medical Association. During an average of about 6 years, 523 participants were diagnosed with dementia—246 in the placebo group and 277 in the ginkgo group. There was no difference in adherence to taking medication between the ginkgo group and the placebo group, and there also appeared to be no significant side effects from ginkgo to complicate the results. Thus, ginkgo seemed to show no overall effect for reducing all types of dementia or Alzheimer's disease.
"It is important to conduct studies and build the scientific evidence base regarding botanical supplements through rigorous research, such as the GEM trial," said Dr. Richard L. Nahin of NIH's National Center for Complementary and Alternative Medicine (NCCAM), one of the study's funders. The researchers will continue to analyze the data for information on ginkgo's possible effects on cardiovascular disease, cancer, depression and other age-related conditions.
"If older patients are considering using ginkgo for preventing dementia," lead investigator DeKosky advised, "I urge them to speak with their health care providers about the results of this study and work together to create the best treatment plan."
Related Links