You are here
October 31, 2012
Healthy Diet May Fend Off Type 2 Diabetes After Gestational Diabetes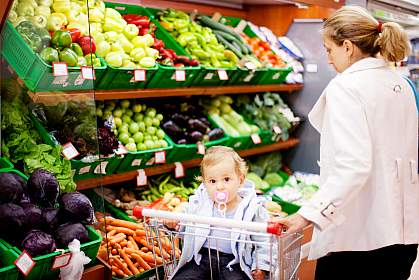 By keeping a healthy diet in the years after pregnancy, women who develop diabetes during pregnancy can greatly reduce their risk for type 2 diabetes, a new study found.
About 5% of pregnant women nationwide develop high blood sugar levels even though they didn't have diabetes before pregnancy. This condition, called gestational diabetes, significantly raises a woman's risk for type 2 diabetes later in life. In type 2 diabetes, cells don't respond properly to insulin, a hormone that signals cells to take the sugar glucose in from the blood. If left untreated, blood sugar levels can soar and cause problems. Complications of type 2 diabetes include heart disease, stroke, kidney disease, blindness and amputation.
Research has shown that, among the general population, healthy eating can reduce the risk of developing type 2 diabetes. A team led by Dr. Cuilin Zhang of NIH's Eunice Kennedy Shriver National Institute of Child Health and Human Development (NICHD) aimed to explore how a healthy diet affects the risk for type 2 diabetes among women who've had gestational diabetes. The study was supported by NICHD along with NIH's National Institute of Diabetes and Digestive and Kidney Diseases (NIDDK) and National Cancer Institute (NCI). Results appeared online on September 17, 2012, in the Archives of Internal Medicine.
The researchers studied over 4,400 women who developed gestational diabetes between 1991 and 2001. The women were taking part in a long-term study of nurses called the Nurses' Health Study II. As part of the ongoing study, the nurses filled out questionnaires every other year on lifestyle and health. They completed a questionnaire every 4 years about their intake of several common food items during the previous year.
The researchers ranked the women's diets by how closely they matched 3 widely studied diets: a Mediterranean-style diet, the Dietary Approaches to Stop Hypertension (DASH) diet and healthy eating guidelines developed by the U.S. Department of Agriculture (the Healthy Eating Index). All 3 diets promote eating fruits, vegetables, nuts, legumes and whole grains.
The researchers found that 491 of the women developed type 2 diabetes. The women who adhered most closely to the diets lowered their risk for type 2 diabetes considerably when compared to the least compliant. Women who followed the Mediterranean diet most closely had a 40% lower risk of developing type 2 diabetes. Those who followed the DASH diet most closely had a 46% lower risk. Those who adhered most closely to the Healthy Eating Index had a 57% lower risk.
"Our findings indicate that women with gestational diabetes aren't necessarily preordained to develop type 2 diabetes," Zhang says. "It appears they may have some degree of control. Sticking to a healthy diet may greatly reduce their chances for developing diabetes later in life."
Dr. Zhang said her team is now evaluating other factors—such as genes, physical activity and other lifestyle variables—that might affect a woman's diabetes risk in a large, ongoing study of U.S. and Danish women called the Diabetes and Women's Health Study.
Related Links
References: Arch Intern Med 2012 Sep 17:1-7. doi: 10.1001/archinternmed.2012.3747. [Epub ahead of print]. PMID:22987062.