You are here
August 20, 2012
Household Molds Linked to Childhood Asthma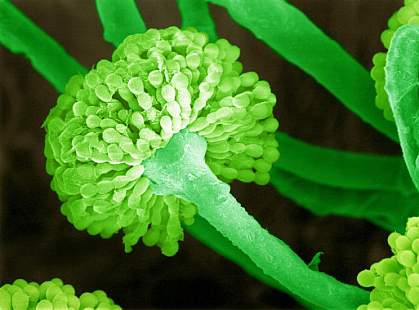 David Gregory and Debbie Marshall, Wellcome Images. All rights reserved by Wellcome Images.
Three specific species of mold were more common in the homes of babies who later developed asthma. The finding highlights the importance of preventing water damage and mold growth in households with infants.
More than 6 million children in the U.S. have asthma. Genes are known to play a role, and so does the home environment. Childhood asthma has been linked to indoor mold growing in a child's home as a result of moisture problems such as water leaks. The connection between mold and asthma, however, is complicated and not fully understood. Asthma is often associated with allergies, and molds spread by releasing tiny spores into the air, which can cause allergic reactions.
A team led by Dr. Tiina Reponen of the University of Cincinnati has been investigating the relationship between mold and childhood asthma. Between 2001 and 2003, they collected dust samples from 289 homes with infants who were an average of 8 months old. At age 7, the kids had allergy skin tests and tests for asthma. The study was funded by NIH's National Institute of Environmental Health Sciences (NIEHS), the U.S. Department of Housing and Urban Development and U.S. Environmental Protection Agency (EPA).
The researchers analyzed the original samples of house dust for concentrations of 36 different species of mold. The molds are on the Environmental Relative Moldiness Index, or ERMI, which was developed by the EPA to measure how moldy a house is.
In the August 2012 edition of the Journal of Allergy and Clinical Immunology, the team reported that 69 of the children (24%) had developed asthma. The ERMI score of a baby's home predicted whether the child would have asthma at age 7. ERMI values range from about -10 to 20. For a 10-point increase in ERMI, a child's risk of asthma increased 80%. Three particular species of mold were most associated with asthma: Aspergillus ochraceus, Aspergillus unguis and Penicillium variabile.
The home inspection team also looked and smelled for evidence of mold. Sometimes even homes with no sign of mold were found to have high ERMI values and result in the development of asthma. Other studies have shown that many homes with high ERMI values have undetected mold problems and that remediating those homes improves children's asthma.
The association between the trio of molds and asthma doesn't prove that the molds cause asthma on their own. But it does provide strong evidence that indoor mold can contribute to asthma development. "This stresses the urgent need for remediating water damage in homes, particularly in lower income, urban communities where this is a common issue," Reponen says.
—by Helen Fields
Related Links
References: J. Allergy Clin. Immunology. 2012 July 10; Epub ahead of print. PMID: 22789397.