You are here
October 4, 2010
Immunotherapy Boosts Pediatric Cancer Survival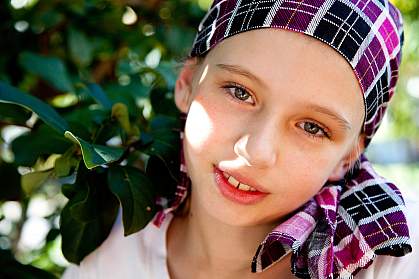 A new form of immunotherapy significantly improved the survival rates of children with neuroblastoma, a deadly nervous system cancer. The result highlights the potential of this treatment approach for patients with rare cancers.
Neuroblastoma is a cancer of the peripheral nervous system (outside of the brain and spinal cord). It is responsible for 12% of all cancer deaths in children under 15 years old. The standard treatment uses high doses of chemotherapy to destroy as many cancer cells as possible. Because the treatment also destroys some normal blood-forming cells, cells are collected from patients before treatment and reinfused afterward. Patients are then given the drug isotretinoin to treat any remaining cancer cells. However, over half of the patients with high-risk neuroblastoma still succumb to the disease, so researchers have been searching for a more effective strategy.
A newer approach to cancer treatment, called immunotherapy, prompts the immune system to attack cancer cells. Researchers led by Dr. Alice Yu of the University of California, San Diego, set out to test an antibody called ch14.18, which targets a molecule on the surface of tumor cells called GD2. The molecule is expressed by cancers such as neuroblastoma, although it's also present on some normal nerve cells. Previous studies demonstrated the safety and activity of ch14.18 when given with other drugs that boost the immune system. The new trial was coordinated by the Children's Oncology Group, a national consortium supported by NIH's National Cancer Institute (NCI).
The researchers enrolled 226 children with high-risk neuroblastoma who had responded to initial therapy. The children were randomly assigned to receive either isotretinoin or a combination of isotretinoin, ch14.18 and the immune system boosting drugs.
As reported in the September 30, 2010, New England Journal of Medicine, the new therapy increased the percentage of children who were alive and free of disease progression after 2 years, from 46% for those receiving the standard therapy to 66% for those receiving immunotherapy plus standard therapy. Children given the immunotherapy had a greater rate of side effects, but most resolved when treatment ceased.
The researchers had planned to compare outcomes after 3 years. However, the study was stopped early because of the strongly positive results. Patients on standard therapy were given the option to switch to ch14.18 immunotherapy.
When the trial began, there was no pharmaceutical company to make ch14.18, so NCI manufactured the agent. NCI continues to produce ch14.18 and make it available to children with high-risk neuroblastoma through ongoing Children's Oncology Group clinical trials. NCI has now identified a pharmaceutical partner, United Therapeutics Corporation, that will eventually take over responsibility for manufacturing ch14.18 and obtaining U.S. Food and Drug Administration approval.
"Despite the remarkable success of the ch14.18 phase III trial, there is still much work that needs to be done," says Dr. Malcolm Smith, associate branch chief of pediatrics in NCI's Clinical Investigations Branch. "We need to identify more effective and less toxic ways to use ch14.18 as well as to develop novel treatments to help children not cured with currently available therapies."
Related Links