You are here
July 13, 2015
Improving Blood Flow in Preterm Infants
At a Glance
A technique called umbilical cord milking increased blood pressure and red blood cell levels in preterm infants delivered by cesarean section.
Further research is needed to compare the risks and benefits of different approaches to boost blood volume and improve the health of preterm infants.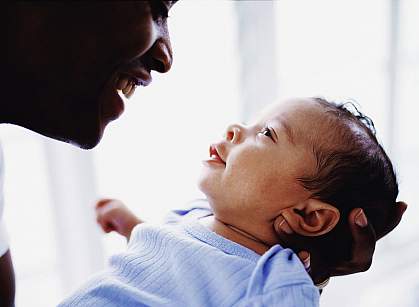 Getty Images
A birth that occurs before 37 weeks from the start of the last menstrual period is called a preterm birth. Preterm birth is the most common cause of infant death. It's also the leading cause of long-term disability related to the nervous system in children.
In 2012, the American College of Obstetricians and Gynecologists recommended a 30- to 60-second delay before clamping the umbilical cord in preterm deliveries. Delayed clamping is thought to allow enough time for umbilical cord blood to fill the blood vessels in the infant's lungs. The delay is also believed to protect the baby's brain from intraventricular hemorrhage, or bleeding into fluid-filled areas called ventricles. Intraventricular hemorrhage is thought to result from low blood pressure brought on by having too little blood in the circulatory system. It can lead to developmental and other serious problems, and it occurs most often among preterm infants.
A research team led by Dr. Anup C. Katheria at the Sharp Mary Birch Hospital for Women and Newborns in San Diego noted that some studies failed to find a reduction in intraventricular hemorrhage from delayed cord clamping among preterm infants delivered by C-section. The scientists wondered whether a technique known as cord milking, or stripping, might prove an effective alternative. Cord milking consists of grasping the umbilical cord, gently squeezing, and slowly pushing blood through the cord toward the infant several times to infuse blood into the preterm infant before clamping.
Researchers at Sharp Mary Birch and Loma Linda University in California enrolled 197 mothers who went into labor at or before the 32nd week of pregnancy. Of 154 infants delivered by C-section, 75 were assigned at random to umbilical cord milking and 79 to delayed clamping. The 43 infants delivered vaginally were also assigned at random to receive either treatment. The study was supported by NIH's Eunice Kennedy Shriver National Institute of Child Health and Human Development (NICHD). Results were published in the July 2015 issue of Pediatrics.
Among infants delivered by C-section, those in the cord-milking group had improved measures of blood circulation, higher blood pressure, and higher levels of red blood cells. Among those delivered vaginally, the researchers found no differences between the cord-milking and delayed-clamping groups.
The researchers originally aimed to enroll 600 infants, but an interim analysis found the rate of intraventricular hemorrhage to be much lower than expected. As a much larger study would be needed to get meaningful results for intraventricular hemorrhage, the trial was stopped.
"The study results are very encouraging," says Dr. Tonse Raju, chief of NICHD's pregnancy and perinatology branch. "The findings need to be confirmed in a larger number of births, but at this point, it appears that umbilical cord milking may prove to be of great benefit to preterm infants delivered via cesarean."
Further work will be needed to determine the best ways to increase survival and reduce disability in preterm infants.
Related Links
References: Umbilical Cord Milking Versus Delayed Cord Clamping in Preterm Infants. Katheria AC, Truong G, Cousins L, Oshiro B, Finer NN. Pediatrics. 2015 Jul;136(1):61-9. doi: 10.1542/peds.2015-0368. PMID: 26122803.
Funding: NIH's Eunice Kennedy Shriver National Institute of Child Health and Human Development (NICHD).