You are here
December 5, 2017
Improving walking for people with peripheral artery disease
At a Glance
A study of people with peripheral artery disease showed that treadmill exercise for 12 weeks improved walking distance, but a drug called granulocyte-macrophage colony-stimulating factor (GM-CSF) did not.
Findings from previous studies had mixed results, with some showing that GM-CSF may be helpful for treating the disease.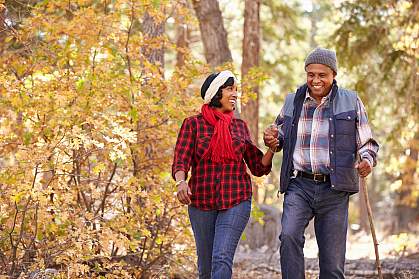 Monkeybusinessimages/iStock/Thinkstock
Blockages in the arteries that supply blood to the leg are common in older adults. This condition, known as peripheral artery disease, is caused by plaques that build up in the arteries. These plaques can diminish blood flow. When that happens, muscles and other tissues can't get the oxygen and nutrients that they need from blood. Because exercise increases oxygen demand, walking can trigger symptoms like fatigue and feeling pain in the legs. After resting for several minutes, people with peripheral artery disease notice that the leg pain usually fades because blood flow and oxygen delivery are again sufficient.
Previous studies of adults with peripheral artery disease suggested that a drug called granulocyte-macrophage colony-stimulating factor (GM-CSF) might help them walk longer distances without fatigue and pain. GM-CSF mobilizes stem cells in the bone marrow to move into the bloodstream. Animal studies suggest that these stem cells, which produce white blood cells, may have multiple activities that could improve the health of peripheral arteries.
Dr. Mary M. McDermott at Northwestern University Feinberg School of Medicine led a study to determine whether GM-CSF combined with exercise could improve walking distance among people with peripheral artery disease. The study was supported in part by NIH's National Heart, Lung, and Blood Institute (NHLBI) and National Institute on Aging (NIA). Results appeared online in the Journal of the American Medical Association on November 15, 2017.
The researchers randomly assigned 210 older adults with blockages in their leg arteries into one of four groups: GM-CSF and treadmill exercise, GM-CSF alone (with a health education class that served as a placebo for treadmill exercise), treadmill exercise alone (with a placebo drug), or health education class alone (with a placebo drug). Participants received either GM-CSF or placebo for two weeks. People in the two groups who had treadmill exercise worked with an exercise physiologist three times per week for six months, working up to 50 minutes of walking per session.
The researchers compared how far each participant could walk in 6 minutes before treatment and after 12 weeks. As expected, exercise alone improved walking distance more than the health class alone. Unexpectedly, combining GM-CSF with treadmill exercise didn't improve the 6-minute walking distance more than treadmill exercise alone. Walking distance wasn't improved for GM-CSF alone, either.
"There is a lot of interest in stem cell therapy, and this is the largest trial of this type of therapy conducted to date in people with blockages in their leg arteries," McDermott says. "It was disappointing that we did not see a benefit from this because so few therapies are available for patients with peripheral artery disease, and earlier research suggested this drug may be beneficial. More research is needed to identify new effective therapies."
"Although this trial showed no added benefit of stem cell mobilization by GM-CSF in individuals with [peripheral artery disease], it yet again confirmed the benefits of exercise on walking capacity that have been observed in previous studies," says Dr. Diane Reid of NHLBI. "Prompt reporting of negative clinical trial results, as done here, provides valuable information to guide the future directions of research on potential new therapeutics."
—by Geri Piazza
Related Links
References: Effect of Granulocyte-Macrophage Colony-Stimulating Factor With or Without Supervised Exercise on Walking Performance in Patients With Peripheral Artery Disease: The PROPEL Randomized Clinical Trial. McDermott MM, Ferrucci L, Tian L, Guralnik JM, Lloyd-Jones D, Kibbe MR, Polonsky TS, Domanchuk K, Stein JH, Zhao L, Taylor D, Skelly C, Pearce W, Perlman H, McCarthy W, Li L, Gao Y, Sufit R, Bloomfield CL, Criqui MH. JAMA. 2017 Nov 15. doi: 10.1001/jama.2017.17437. [Epub ahead of print]. PMID: 29141087.
Funding: NIH's National Heart, Lung, and Blood Institute (NHLBI) and National Institute on Aging (NIA); Jesse Brown VA Medical Center.