You are here
March 10, 2008
Increased Allergen Levels in Homes Linked to Asthma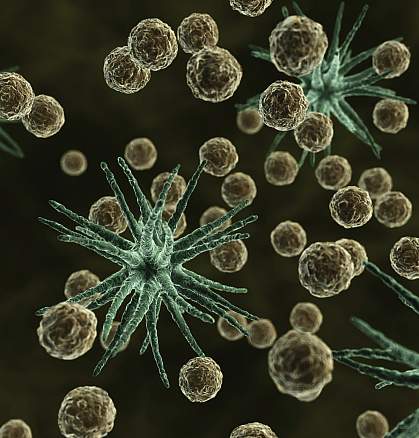 A national survey found that asthmatics with allergies may be able to alleviate their asthma symptoms by reducing allergen levels in their homes.
Asthma is one of the most common chronic ailments in the United States, affecting more than 22 million people. It can be triggered by a wide range of substances, which are called allergens.
A team of researchers—at NIH's National Institute of Environmental Health Sciences (NIEHS), the University of Iowa, Rho Inc. and the Constella Group—examined factors that contribute to high allergen levels in homes and whether household allergen levels were associated with asthma. They used data from the National Survey of Lead and Allergens in Housing (NSLAH). Jointly funded by NIEHS and the U.S. Department of Housing and Urban Development, NSLAH surveyed the homes of nearly 2,500 people in 75 locations across the country. The indoor allergens studied included those from dog, cat, mouse, cockroach, dust mite and the fungus Alternaria.
The team's findings, published in the March 2008 issue of the Journal of Allergy and Clinical Immunology, show that exposure to multiple indoor allergens is common in U.S. households, with 52% having at least 6 detectable allergens and 46% having 3 or more allergens at increased levels.
Several factors were associated with increased allergen levels, including race, income, type of home, and sources of allergens, such as the presence of pets and pests. The study also showed that homes with children were less likely to have high allergen levels. The authors suggest that homes with children might be cleaned more frequently than homes without children. Regular household cleaning is a simple yet effective way to help reduce overall exposure to allergens.
The researchers found that a quarter of the surveyed homes had at least 1 resident who had been diagnosed with asthma. Higher levels of at least 4 allergens were present in 23% of the homes of people with asthma, compared with 16% of homes where no asthmatic people lived.
"Our results highlight the importance of reducing exposure to allergens as a fundamental part of asthma management," lead researcher Dr. Päivi Salo of NIEHS said. "Although homes cannot be made allergen free, asthmatics who have allergies may need to do a better job in reducing allergen levels in their homes to improve asthma control."
The researchers point out that more research is needed to understand the complex relationships between the genetic and environmental factors that cause asthma, particularly the role that indoor allergens play in the development of asthma.
Related Links