You are here
September 26, 2017
Infant exposure to pet and pest allergens may reduce asthma risk
At a Glance
Children exposed to high indoor levels of pet or pest allergens during infancy had a lower risk of developing asthma by age 7.
The findings provide clues for the design of strategies to prevent asthma before it develops.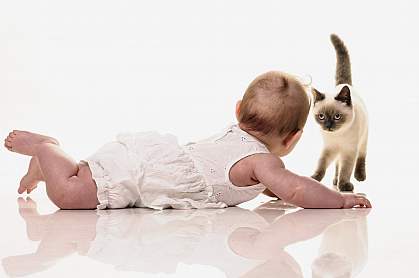 Runzelkorn/iStock/Thinkstock
More than 8% of children in the United States currently have asthma, according to the Centers for Disease Control and Prevention. Asthma is a chronic lung disease that inflames and narrows the airways. It causes recurring bouts of wheezing, chest tightness, shortness of breath, and coughing. Asthma can result in missed time from school and work, and is a major cause of pediatric emergency department visits and hospitalizations.
Studies have found that reducing allergens (substances that cause allergic reactions) at home can lessen asthma symptoms among children with asthma who are sensitive to those allergens. In contrast, findings from the Urban Environment and Childhood Asthma (URECA) study suggested that exposure to certain allergens and bacteria early in life, before asthma develops, may protect children from wheezing, a precursor of asthma, at age 3. Since 2005, URECA investigators have enrolled 560 newborns from Baltimore, Boston, New York City, and St. Louis who are at high risk for developing asthma because at least one parent has asthma or allergies. The ongoing study is funded by NIH's National Institute of Allergy and Infectious Diseases (NIAID).
A new report from the URECA team evaluates the children through 7 years of age. The researchers had enough data to assess asthma status at age 7 for 442 of the children. Findings were published on September 19, 2017, in the Journal of Allergy and Clinical Immunology.
Of the 442 children, 130 (29%) had asthma at age 7. Higher levels of cockroach, mouse, and cat allergens in dust samples collected from the children's homes during the first 3 years of life (at age 3 months, 2 years, and 3 years) were linked to a lower risk of asthma at age 7. A similar association was seen for dog allergen, but it wasn't statistically significant, meaning it could be due to chance.
The researchers also found links between certain types of bacteria in the house dust and an asthma diagnosis by age 7. These findings support previous work suggesting that exposure to certain bacteria in early life might influence development of asthma. However, more research is needed to clarify this complex relationship.
"Our observations imply that exposure to a broad variety of indoor allergens, bacteria, and bacterial products early in life may reduce the risk of developing asthma," says URECA principal investigator Dr. James E. Gern at the University of Wisconsin-Madison. "Additional research may help us identify specific targets for asthma prevention strategies."
The investigators will continue to monitor the children. Ongoing studies by this group and others are aiming to pinpoint how environmental factors can influence development of asthma. 
Related Links
References: Early-life home environment and risk of asthma among inner-city children. O'Connor GT, Lynch SV, Bloomberg GR, Kattan M, Wood RA, Gergen PJ, Jaffee KF, Calatroni A, Bacharier LB, Beigelman A, Sandel MT, Johnson CC, Faruqi A, Santee C, Fujimura KE, Fadrosh D, Boushey H, Visness CM, Gern JE. J Allergy Clin Immunol. 2017 Sep 12. pii: S0091-6749(17)31204-6. doi: 10.1016/j.jaci.2017.06.040. [Epub ahead of print]. PMID: 28939248.
Funding: NIH's National Institute of Allergy and Infectious Diseases (NIAID), National Center for Research Resources (NCRR), and National Center for the Advancement of Translational Research (NCATS).