You are here
February 5, 2007
Inhaled Steroids Best Treatment for Children With Asthma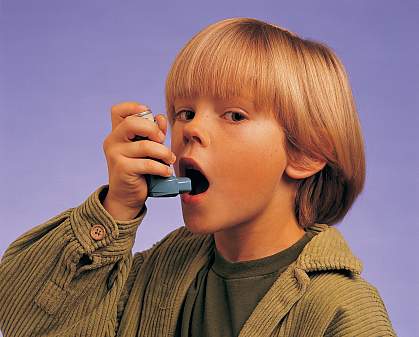 Several medications are available to help control children's asthma, but there haven't been clinical trials directly comparing them. A new study tested the effectiveness and safety of three different asthma medicines. It found that inhaled corticosteroids are the most effective initial daily therapy for children with mild to moderate persistent asthma.
Current national and international asthma guidelines are based either on studies of single treatments compared to a placebo in children or on comparison studies in adults. Researchers in the Childhood Asthma Research and Education Network of NIH's National Heart, Lung, and Blood Institute (NHLBI) set out to compare the effectiveness and safety of three different asthma treatments in children from six to 14 years old with mild to moderate persistent asthma.
The scientists tested a low-dose inhaled corticosteroid (200 mcg fluticasone a day), a combination of a lower dose inhaled corticosteroid and an inhaled long-acting beta2 agonist (100 mcg fluticasone each morning plus 50mcg salmeterol twice daily), and a leukotriene receptor antagonist (montelukast) for 48 weeks in 285 children.
In the January, 2007, issue of Journal of Allergy and Clinical Immunology, the researchers reported that the inhaled corticosteroid and combination treatments had similar efficacy in controlling symptoms, and both were more effective than montelukast. The combination treatment wasn't as effective as the inhaled corticosteroid, however, in other important measures of asthma control such as lung function. None of the medicines caused significant growth effects, a concern for many parents and doctors.
The researchers conclude that, in line with current asthma clinical guidelines, inhaled corticosteroids are the most effective therapy for school-aged children with mild to moderate asthma. They note, however, that even among the children taking the most effective medicine, there were an average of just 64% asthma control days over the 48 weeks of the study. This shows the importance of monitoring a child's response to medication regularly in order to make appropriate adjustments. Studies are now underway to directly compare treatment options for those children who need additional therapy.
Related Links