You are here
August 3, 2009
Intensive Glucose Control Reduces Complications of Type 1 Diabetes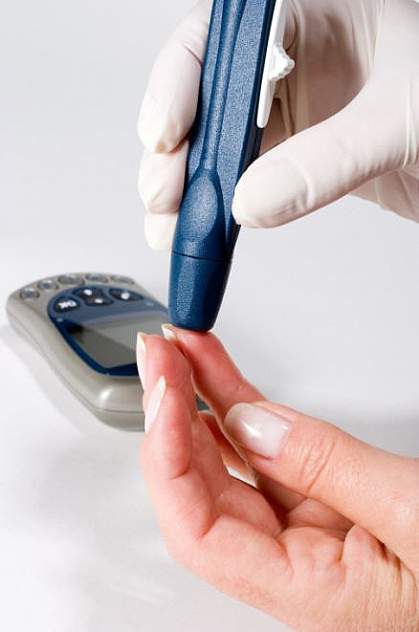 Near-normal control of glucose beginning as soon as possible after diagnosis greatly improves the long-term prognosis of type 1 diabetes, a new study found.
Nearly 24 million people nationwide have diabetes, with type 1 diabetes accounting for about 5-10% of confirmed cases. Formerly called juvenile-onset or insulin-dependent diabetes, type 1 diabetes develops when the body's immune system destroys the cells that make the hormone insulin, which regulates blood glucose. Type 1 diabetes develops most often in children and young adults but can appear at any age.
The new study builds on the landmark Diabetes Control and Complications Trial (DCCT) and its follow-up study, the Epidemiology of Diabetes Interventions and Complications (EDIC). Both were funded by NIH. DCCT, conducted from 1983 to 1989, compared intensive management of blood glucose to conventional control. The intensive treatment group was asked to keep glucose levels as close to normal as possible, which requires at least 3 insulin injections a day or an insulin pump, guided by self-monitoring of blood glucose at least 4 times a day. At the time, conventional treatment consisted of 1 or 2 insulin injections a day with daily urine or blood glucose testing. DCCT found that intensive glucose control was superior to conventional control in delaying or preventing the complications of type 1 diabetes. EDIC continues to follow DCCT participants to track the long-term effects of the approaches.
In the new study, a team of researchers led by Dr. David M. Nathan of Massachusetts General Hospital and Dr. Trevor Orchard of the University of Pittsburgh looked at overall rates of eye, kidney and cardiovascular complications in people who were diagnosed with type 1 diabetes an average of 30 years earlier. The team looked at DCCT/EDIC participants as well as a subset of patients from another NIH-funded study of people diagnosed with type 1 diabetes from 1950 to 1980. The other study was observational, with the patients comparable to DCCT participants using conventional treatment.
In the July 27, 2009, issue of the Archives of Internal Medicine, the researchers reported that intensive glucose control significantly lowered rates of eye damage, kidney damage and cardiovascular disease events. Among DCCT participants, those randomly assigned to intensive glucose control had about half the rate of eye damage after 30 years of diabetes than those assigned to conventional glucose control (21% vs. 50%), less than half the rate of kidney damage (9% vs. 25%) and a lower rate of cardiovascular events (9% vs. 14%). Results from the other NIH-funded study were consistent with those from DCCT's conventionally treated participants.
The researchers also found that, after 30 years of living with diabetes, less than 1% of those receiving intensive glucose control in the DCCT had significantly impaired vision or kidney failure or needed a limb amputation due to diabetes.
"Tight control is difficult to achieve and maintain, but its benefits have changed the course of diabetes," says Dr. Saul Genuth of Case Western University, who co-chairs the EDIC study. Major technology improvements in the past decade, such as continuous glucose monitoring devices and improved insulin pump technology, are now helping patients control their blood glucose more precisely and conveniently.
Related Links