You are here
October 18, 2010
Intervention Improves Outlook in Type 2 Diabetes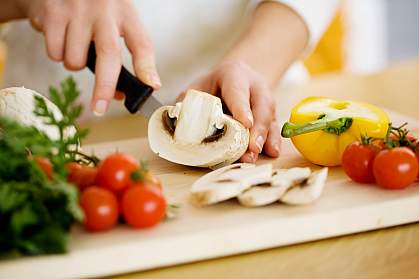 A program designed to help people with type 2 diabetes lose and keep off extra weight led to improved diabetes control and cardiovascular disease risk factors. The finding suggests that lifestyle changes can have long-term benefits for overweight and obese people with diabetes.
About 24 million Americans have diabetes. It's the main cause of kidney failure, limb amputations and new-onset blindness in adults nationwide. It's also a major cause of heart disease and stroke. The longer a person has diabetes, the greater the chances of developing serious damage to the eyes, nerves, heart, kidneys and blood vessels.
Type 2 diabetes, which accounts for up to 95% of all diabetes cases, is strongly linked with excess weight and inactivity. Past studies have shown the short-term benefits of lifestyle interventions to help people with diabetes control their weight. The Look AHEAD (Action for Health in Diabetes) trial, chaired by Dr. Rena Wing of the Miriam Hospital/Brown Medical School, aims to look at the long-term effects. The ongoing study is sponsored by NIH's National Institute of Diabetes and Digestive and Kidney Diseases (NIDDK), along with NIH's National Heart, Lung and Blood Institute (NHLBI) and the Centers for Disease Control and Prevention.
Researchers at 16 centers across the United States enrolled over 5,000 people between 45 and 76 who were overweight or obese and had type 2 diabetes. The participants were randomly assigned to an intensive lifestyle intervention group or a more typical diabetes support and education program. Those in the intensive intervention group met regularly with a counselor in group and individual sessions. They were given specific calorie intake and exercise goals, encouraged to maintain a diet and exercise diary, and taught behavioral skills like problem solving and goal setting. After the intensive first year, they continued to receive support. Those in the diabetes support and education group were invited to annual group sessions focused on diet, physical activity or social support, but weren't weighed or counseled on behavioral strategies.
The 4-year results were published in the September 27, 2010, issue of the Archives of Internal Medicine. Participants in the intensive lifestyle group lost an average of over 6% of their initial body weight over the 4-year period. Those in the support and education group lost less than 1%. Both groups saw positive health changes. However, the intensive intervention group had greater improvements in fitness, diabetes control, blood pressure, HDL (good) cholesterol and triglycerides. The diabetes support group had larger reductions in LDL (bad) cholesterol, but the researchers believe that stems from their higher use of cholesterol-lowering medications.
"This important study shows that lifestyle changes have long-term favorable effects on diabetes control and cardiovascular disease risk factors in overweight or obese individuals with type 2 diabetes," says NIDDK Director Dr. Griffin P. Rodgers.
Over 94% of the participants remain involved in the study and will be followed for several more years. The longer term follow-up will evaluate several factors, including the incidence of illness and death due to cardiovascular disease, general health, quality of life and cost-effectiveness of the interventions.
Related Links