You are here
June 20, 2017
Ketamine not effective in surgery study
At a Glance
Researchers found that low doses of ketamine didn't reduce delirium, postoperative pain, or other complications related to major surgeries.
The results suggest that the common practice of giving ketamine to patients during surgery may need to be re-evaluated.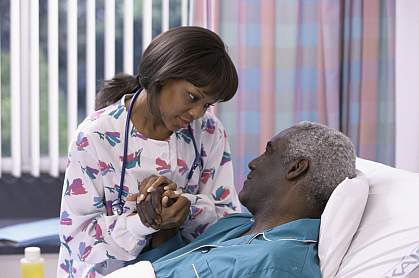 Purestock/Thinkstock
Patients who are ill or undergoing surgery sometimes experience delirium, a confused mental state that includes changes in awareness, thinking, judgment, sleeping patterns, and behavior. This is most common in adults over 60 years old. Many episodes of delirium are caused by medicine or dehydration and are reversible. However, some episodes of delirium can have long-term effects. Patients who become delirious after surgery can have longer hospital stays and be at a higher risk of dying.
Opioid pain relievers are thought to be a risk factor for delirium and are addictive. Ketamine is commonly used in the operating room as an alternative to opioids to prevent pain from surgery and reduce the need for opioids.
To investigate whether ketamine alleviates pain and prevents delirium from surgery, a team led by Dr. Michael Avidan of Washington University followed 672 patients (254 women and 418 men) over the age of 60 who were undergoing major surgery in the United States, Canada, India, and South Korea. The study was funded in part by NIH's National Institute on Aging (NIA), National Institute of General Medical Sciences (NIGMS), and National Cancer Institute (NCI). Results were published online on May 30, 2017, in the Lancet.
The team randomly assigned the patients to three treatment groups. Patients received either a placebo, a 0.5 mg/kg dose of ketamine, or a 1.0 mg/kg dose ketamine following general anesthesia but prior to any surgical incision. Patients were evaluated for delirium from 1 to 3 days following the surgery.
There were no significant differences between the groups in patients experiencing delirium (19.82%, placebo; 17.65%, 0.5 mg/kg; 21.3%, 1.0 mg/kg). Nor were there any significant differences across groups in pain experienced in the days following the surgery.
Patients given ketamine didn't show any increased risk for adverse events. However, as the dose of ketamine increased, so did the reports of hallucinations and nightmares over the 3 days following surgery.
"We were particularly surprised by the lack of an effect on postoperative pain," says the study's senior author, Dr. George Mashour of the University of Michigan. "Giving single doses of ketamine during surgery to prevent postoperative pain is increasingly common, but our data challenge that practice and suggest that even after decades of use, more research is required if we hope to understand ketamine."
"We found that the current practice of giving low doses of ketamine to patients during surgery is not having the desired effect," Avidan says. "So we need to determine whether higher doses might be more effective, or we need to find other alternatives to opioids."
—by Tianna Hicklin, Ph.D.
Related Links
References: Intraoperative ketamine for prevention of postoperative delirium or pain after major surgery in older adults: an international, multicentre, double-blind, randomised clinical trial. Avidan MS, Maybrier HR, Abdallah AB, Jacobsohn E, Vlisides PE, Pryor KO, Veselis RA, Grocott HP, Emmert DA, Rogers EM, Downey RJ, Yulico H, Noh GJ, Lee YH, Waszynski CM, Arya VK, Pagel PS, Hudetz JA, Muench MR, Fritz BA, Waberski W, Inouye SK, Mashour GA; PODCAST Research Group. Lancet. 2017 May 30. pii: S0140-6736(17)31467-8. doi: 10.1016/S0140-6736(17)31467-8. [Epub ahead of print]. PMID: 28576285.
Funding: National Institutes of Health National Institute on Aging (NIA), National Institute of General Medical Sciences (NIGMS), and National Cancer Institute (NCI); the Dr Seymour and Rose T Brown Endowed Chair; and all the participating international institutions provided generous additional support for the study.