You are here
August 4, 2008
Laser Treatment Best for Diabetic Macular Edema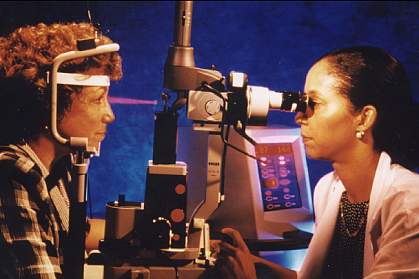 NEI
A promising new drug therapy for people with diabetes who have abnormal swelling in the eye—a condition called diabetic macular edema—proved less effective than traditional laser treatments in a new study. Laser therapy was not only more effective than corticosteroids, but also had far fewer side effects.
Between 40% and 45% of the 18 million Americans diagnosed with diabetes have vision problems. These include diabetic macular edema, which involves swelling of the center part of the eye's retina, the macula. The condition can lead to blindness if left untreated.
Ophthalmologists traditionally use lasers to reduce the swelling. However, starting around 5 years ago, early reports of success in treating diabetic macular edema with injections of a corticosteroid called triamcinolone led to a rise in its popularity. The Diabetic Retinopathy Clinical Research Network, a collaborative network supported by NIH's National Eye Institute (NEI) and National Institute of Diabetes and Digestive and Kidney Diseases (NIDDK), set out to compare the long-term benefits of both treatments and evaluate their potential side effects.
A total of 693 patients with diabetic macular edema participated at 88 sites across the United States. Each person was randomly assigned to corticosteroid or traditional laser treatment. Following the treatment, investigators tested each patient to determine whether the procedure had prevented substantial vision loss, defined as reading at least 2 less lines on a standard eye chart 2 years after entering the study.
The researchers reported in the online edition of the journal Ophthalmology on July 28, 2008, that only 19% of the laser-treated eyes experienced substantial vision loss, compared to 28% of those in the corticosteroid-treated group. About a third of the eyes treated with laser therapy actually showed improvement in vision.
The laser-treated group was also far less likely to experience side effects, with 13% needing cataract surgery compared to 51% of those in the corticosteroid-treated group. In addition, almost half of the corticosteroid-treated group had increased eye pressure, which may lead to glaucoma. A third of this group needed eye drop medications to lower their eye pressure. The laser-treated group had significantly less of a problem with eye pressure, with 8% needing eye drop medications.
"Results of this study should confirm the use of laser treatment for diabetic macular edema and will have a significant impact on quality of life for tens of thousands of people being treated for diabetic macular edema in the United States each year," said NEI Director Dr. Paul A. Sieving.
The study only examined people with diabetic macular edema, so these results might not apply to those with macular edema from conditions other than diabetes. The researchers also note that the corticosteroid treatment did provide some benefit, although not as much as laser treatment. The Diabetic Retinopathy Clinical Research Network is now conducting a study to compare laser treatment with a combination of corticosteroids and laser.
Related Links