You are here
February 28, 2011
Less Invasive Surgery Just as Effective for Some Breast Cancer Patients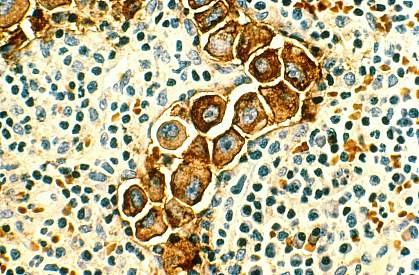 Dr. Lance Liotta's Laboratory, NCI.
When breast cancer has spread to nearby lymph nodes, many doctors believe that removing several more nodes provides better treatment. But a new study suggests otherwise. The finding may change the way early-stage breast cancer is treated in some patients.
Doctors often begin with sentinel lymph node dissection (SLND) — only removing 1 or 2 lymph nodes — to determine if cancer has spread. If these sentinel nodes don't contain tumor cells, no more surgery is performed. However, if the sentinel nodes do contain tumor cells, the next step is to perform axillary lymph node dissection (ALND) — removing at least 10 nodes.
ALND can lead to a number of side effects, including seromas (swelling due to clear fluid pockets), tingling sensations and buildup of lymph fluid called lymphedema. Moreover, studies haven't definitively shown whether ALND improves survival or staves off reoccurrence of the disease compared to SLND alone. Dr. Armando Giuliano of the St. John's Health Center in Santa Monica, California, and his colleagues set out to investigate.
The team recruited almost 900 patients from 115 different treatment centers. All had tumor cells in 1 or 2 sentinel lymph nodes. Patients were randomly divided into 2 groups. One underwent ALND while the other did not. All the patients received radiation therapy. The study, which was funded by NIH's National Cancer Institute (NCI), appeared in the February 9, 2011, issue of the Journal of the American Medical Association.
Overall, an average of 17 lymph nodes per patient was removed from the ALND group, while just 2 were removed from patients who underwent SLND alone. Strikingly, 5 years after surgery, the research team saw no difference between the 2 groups in the percentage of patients who survived or who remained disease-free.
The team also compared how many patients in each group had complications from surgery, including wound infection, seromas and tingling sensations. In the group that received SLND alone, only 25% suffered from these complications, while 70% of the ALND group experienced them.
These results show that SLND is no less effective than ALND at preventing death or reoccurrence of disease after 5 years, while dramatically reducing the risk of side effects from surgery. Giuliano notes that several treatment centers — including St. John's Health Center and the Memorial Sloan-Kettering Cancer Center — are already using the findings to make treatment decisions for early metastatic breast cancer. "It's ready to go for these patients," he says.
— by Allison Bierly, Ph.D.
Related Links