You are here
December 12, 2011
Less Medication Effective for Wheezing Preschoolers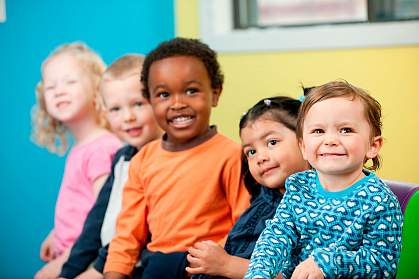 Children with recurrent wheezing who are in danger of developing asthma fared no better taking daily low doses of inhaled corticosteroid than taking higher doses only as needed. The children given treatment only as needed received far less total medication during the yearlong study.
Asthma affects nearly 7 million children nationwide. It's a leading cause of hospitalization and missed school days. Symptoms can include wheezing, shortness of breath, chest tightness and coughing. While there's no cure, symptoms can be controlled with medications.
For preschoolers who are at risk of developing asthma and who have recurrent respiratory illnesses that lead to wheezing, clinical guidelines recommend daily low-dose treatment of an inhaled corticosteroid. However, parents and caregivers may be reluctant to give children medicine every day when wheezing episodes occur only a few times a year. As a result, many children don't take their treatments every day.
Researchers set out to test whether giving inhaled corticosteroids daily was better than giving medication only when the children have specific respiratory illness symptoms. The team was led by Dr. Robert Zeiger of the University of California, San Diego, and Kaiser Permanente Southern California in San Diego. The study was funded primarily by NIH's National Heart, Lung and Blood Institute (NHLBI).
The scientists followed 278 preschool-age children between the ages of 1 and 4.5 years who had wheezing episodes during respiratory illnesses but few or no symptoms between episodes. The children were randomly assigned to 2 groups. One group was treated daily with low doses of the inhaled corticosteroid budesonide (0.5 milligrams per day). Children in the second group received a higher dose (2 milligrams per day) for 7 days when they had respiratory symptoms that had previously led to wheezing. The results appeared in the New England Journal of Medicine on November 24, 2011.
The researchers found no significant difference one year later between the 2 treatment groups. They were comparable in the number of episodes requiring further medication, severity of respiratory symptoms, number of symptom-free days, number of doctor visits due to symptoms and absences from school, day care or parental work. On average, the intermittent treatment was given every 3.5 months. Those who took treatment only as needed received one-third the total medication over the course of the study as those in the daily dose group.
"In medicine, our goal is always to treat children with the smallest amount of a drug that is still effective," Zeiger says. "A critical element of the intermittent approach is that parents were taught to start the intermittent regimen so it was not used for every respiratory illness or symptom. Rather, they used treatment only for those symptoms that the parents and physicians identified had led to the child's wheezing episodes in the past."
"Studies such as this build evidence necessary for physicians and parents to make informed choices about treatment options," says NHLBI Acting Director Dr. Susan B. Shurin. The findings could benefit many preschoolers who wheeze during respiratory illnesses. Zeiger notes, however, that the study didn't evaluate children with more severe disease or persistent symptoms.
Related Links