You are here
April 21, 2006
Low-Calorie Diet May Slow Aging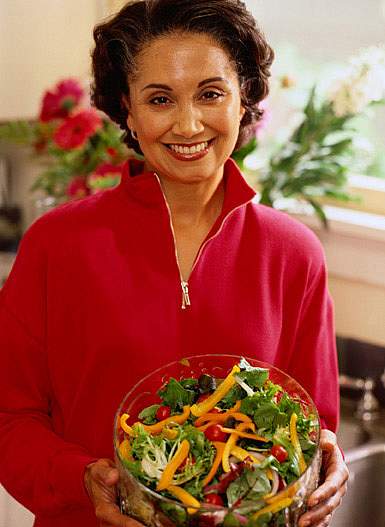 There's been a lot of buzz on the web about using a low-calorie diet to live longer. The technique works in creatures from fruit flies to rats, mice and monkeys, but no one knows if it can do the same for people. A new study of overweight people who cut their calories by 25% for 6 months found some promising lab results that have been linked to longevity. The results aren't enough for any major conclusions, but they point the way toward longer studies to see if low-calorie diets can really slow the aging process in people.
NIH-funded Researchers at Louisiana State University studied 48 healthy men and women who did not have active lifestyles. They were randomly divided into 4 groups:
One group stayed on a diet to maintain their pre-study weight.
A calorie-restriction group ate 25% less calories.
A calorie-restriction with exercise group ate 12.5% less calories but exercised to burn 12.5% more.
A very low-calorie diet group ate 890 calories a day until they lost 15% of their weight. They then followed a weight-maintenance diet to hold the lower weight.
By the end of 6 months, there were changes in 2 important measures that have been linked to longer lives in humans. Fasting insulin levels were significantly lower in all 3 groups on the restricted-calorie diets. Core body temperature was reduced in both the calorie-restriction and calorie-restriction with exercise groups. The low-calorie diets may also affect some other measurements of metabolism that have been linked with living longer and aging.
This study was a small pilot project for a long-term study called the Comprehensive Assessment of Long-Term Effects of Reducing Intake of Energy (CALERIE). CALERIE, which is sponsored by NIH's National Institute on Aging (NIA), will test the effects of lowering caloric intake for 2 years in a larger number of people. It's set to start later this year.
Related Links