You are here
July 30, 2007
Low Health Literacy Linked to Cardiovascular Death Rate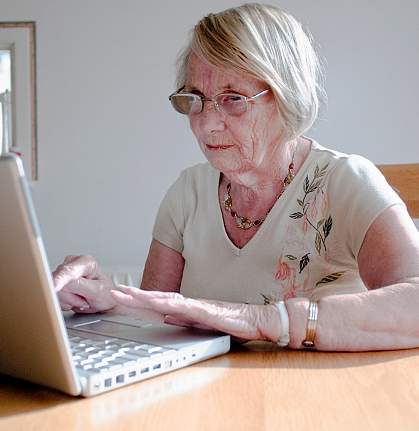 Elderly people with low levels of health literacy have higher mortality rates — and, in particular, higher levels of cardiovascular deaths — according to a new study.
Health literacy is the capacity to obtain, process and understand the basic health information needed to make appropriate decisions about your health. It's been shown in previous studies to affect several health outcomes. For example, some studies report that people who have trouble reading and understanding basic health materials such as prescription bottles and doctors' instructions have higher rates of hospitalization.
A team of researchers led by Dr. David W. Baker at Northwestern University set out to explore whether there is a relationship between health literacy and mortality. With support from NIH's National Institute on Aging (NIA) and the Centers for Disease Control and Prevention, the researchers recruited in 4 cities among new enrollees in a Medicare managed care plan. The scientists interviewed 3,344 people who were 65 and older for 1 hour in their homes between July 1 and December 31, 1997. The researchers assessed each participant's ethnicity, education, annual income, body mass index, self-reported physical and mental health, and their health behaviors such as smoking, drinking and exercise. The scientists evaluated health literacy with an established test that included 2 reading passages and 4 items involving numbers. They then tracked the number and causes of deaths through 2003.
The results appeared in the July 23, 2007, issue of Archives of Internal Medicine. The researchers found that 64.2% of the participants had adequate health literacy, 11.2% had marginal health literacy and 24.5% had inadequate health literacy. A total of 815 participants (25.0%) died during follow-up. After adjusting for other variables, the researchers found that participants with inadequate health literacy had a 52% higher mortality rate. Most of the excess mortality for those with inadequate health literacy was from cardiovascular disease.
The number of school years completed, the researchers found, was less strongly linked with mortality. The researchers argue that the level of education a person attains doesn't accurately reflect the ability to read and process information; people can progress through the educational system with a wide range of skill, including reading ability.
This study shows the importance of health literacy for health outcomes. People with low levels of health literacy are less able to understand medication dosing instructions, regimens and other aspects of managing disease. Future research into how health literacy affects health outcomes will help researchers design more effective ways of communicating important health information to patients with low levels of health literacy.
— by Harrison Wein, Ph.D.
Related Links