You are here
April 30, 2007
Lower Sodium Decreases Long-Term Risk for Cardiovascular Disease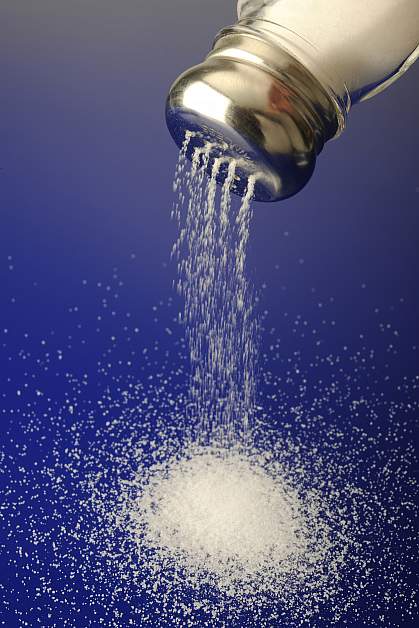 Lowering your salt intake not only prevents high blood pressure but can also prevent heart disease, according to new clinical trial data.
When high blood pressure (hypertension) isn't found and treated, it can lead to heart failure and other cardiovascular problems. Several studies have shown that lower sodium, or salt, intake lowers blood pressure and can help prevent hypertension. However, studies connecting dietary sodium directly to heart disease and survival, especially among those without hypertension, have been limited and inconclusive.
Led by Dr. Nancy R. Cook of Brigham and Women's Hospital, a team of researchers supported by NIH's National Heart, Lung and Blood Institute (NHLBI) analyzed data from two completed randomized trials of over 3,000 adults, aged 30-54 years, with prehypertension. Called the Trials of Hypertension Prevention, the first trial was conducted at 10 clinic sites from 1987-90, and the second at nine sites from 1990-95, with follow up for 10 to 15 years. Through dietary and behavioral intervention, the trial participants reduced their average dietary sodium intake by 25-35%.
Both trials found that the reductions in sodium intake prevented high blood pressure. This new follow-up data, published online on April 20, 2007, in the British Medical Journal, shows that the groups who reduced their sodium intake also had lower rates of cardiovascular disease. After reducing their sodium intake, men and women with prehypertension had a 25% lower risk of total cardiovascular disease over the next 10 to 15 years.
Mail questionnaires during the follow-up period suggested that some of the dietary changes established by the trials are long-lasting, despite the difficulty in avoiding high-sodium foods in the U.S. NHLBI has already developed an eating plan to help people reduce their blood pressure based on results from its Dietary Approaches to Stop Hypertension (DASH) and DASH-Sodium studies. This new study shows that, as researchers expected, a lower sodium diet can reduce the long-term risk of heart disease.
Related Links