You are here
June 12, 2018
Many with mild traumatic brain injury don't receive follow-up care
At a Glance
Less than half of people treated for a mild traumatic brain injury at major trauma centers across the country received follow-up care by three months after discharge.
The finding suggests that people with persistent symptoms from concussions may not be receiving treatments that could improve their physical and mental health.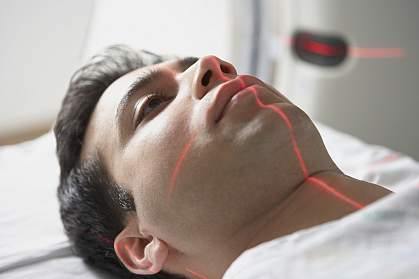 ERproductions Ltd/Blend Images/Thinkstock
Millions of Americans go to the hospital each year for treatment of mild traumatic brain injury (TBI), also known as concussion. Though rarely fatal, concussions can have long-term effects that decrease quality of life. These include headaches, trouble with memory and reasoning, difficulty sleeping, and depression. A recent study found that almost a quarter of people with mild TBI still have related physical or mental problems a year later.
Other studies have suggested that many patients with mild TBI do not receive follow-up care that could help them manage these problems. A team led by Dr. Seth A. Seabury at the University of Southern California and Dr. Geoffrey Manley of the University of California, San Francisco, set out to better understand how such follow-up care is delivered nationwide. Using data from a large study of traumatic brain injury patients called TRACK-TBI, they followed 831 people who were treated for mild TBI at 11 major trauma centers across the country. All the participants had symptoms that triggered a CT scan of their brain as part of initial treatment. Traffic incidents and falls accounted for most of the cases.
The participants were asked about their follow-up care using two surveys, collected two weeks and three months after their injury. They reported whether they had received educational materials about their TBI when leaving the hospital, if the hospital had called to check up on them, and if they had seen a doctor or other health care practitioner since going home. The research was supported in part by NIH's National Institute of Neurological Disorders and Stroke (NINDS). Results were published in JAMA Network Open on May 25, 2018.
Overall, about 42% of the participants said they had received educational materials when leaving the hospital. Only 27% received a follow-up call from the hospital. Within three months of their injury, 44% had seen a health-care professional. These percentages varied widely between hospitals. Centers with dedicated TBI clinics provided the highest rates of follow-up care.
People with more serious injuries were somewhat more likely to receive follow-up care. Out of 236 participants who had tissue damage on their initial CT scan, 61% had seen a medical practitioner by three months after their injury. However, 39% had not. Of the 279 participants who reported that they still had three or more moderate or severe symptoms from their concussion three months later, only about half had seen a doctor about those symptoms. Whether or not people had health insurance did not affect the rates of follow-up care.
"Even in the best trauma centers in the country, patients with concussion are not getting the follow-up care they desperately need," Manley says.
"This is a public health crisis that is being overlooked," he adds. "For too many patients, concussion is being treated as a minor injury."
—by Sharon Reynolds
Related Links
References: Assessment of follow-up care after emergency department presentation for mild traumatic brain injury and concussion: results from the TRACK-TBI study. Seabury SA, Gaudette E, Goldman DP, Markowitz AJ, Brooks J, McCrea M, Okonkwo DO, Manley GT; and the TRACK-TBI Investigators. JAMA Network Open. 2018 May 25;1(1):e180210. doi:10.1001/jamanetworkopen.2018.0210.
Funding: NIH's National Institute of Neurological Disorders and Stroke (NINDS) and Research to Prevent Blindness.