You are here
February 9, 2015
Many at Risk for Alcohol-Medication Interactions
At a Glance
A large number of people may combine alcoholic beverages with prescription medications known to interact with alcohol, an analysis suggests.
The findings highlight the need to talk with a health care professional about the risks of using alcohol and prescription medications.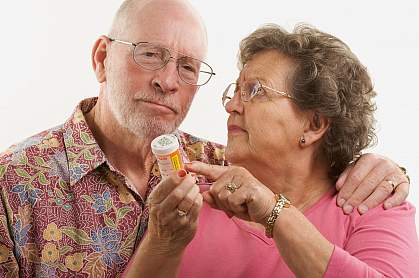 Andy Dean/iStock/Thinkstock
About 71% of U.S. adults drink alcohol. Many commonly prescribed medications can interact with alcohol, including drugs to treat depression, diabetes, and high blood pressure. The combination of alcohol and medications can cause many adverse health effects. These include nausea and vomiting, headaches, drowsiness, fainting, and loss of coordination. More severe effects include internal bleeding, heart problems, and difficulty breathing. Alcohol can also make some medications less effective or even useless.
Older adults are at particular risk for interactions between alcohol and prescription medications. They're more likely to be taking medications in the first place. And certain medications that are affected by alcohol use, such as diazepam (Valium), last longer in aging bodies. This creates a longer window of opportunity for interactions.
To better understand the relationship between alcohol consumption and prescription medicine use in the U.S. population, a team led by Dr. Rosalind Breslow at NIH's National Institute on Alcohol Abuse and Alcoholism (NIAAA) analyzed data from the National Health and Nutrition Examination Survey (NHANES 1999-2010). More than 26,000 adults were asked about alcohol use in the past year and over their lifetime and prescription drug use in the past month. The study appeared in the February 2015 issue of Alcoholism: Clinical and Experimental Research.
Almost 600 (45%) of the prescription medications listed in the NHANES survey database were classified as interacting with alcohol. The main types were blood pressure medications, sleeping pills, pain medications, muscle relaxers, diabetes and cholesterol medications, antidepressants, and antipsychotics.
The analysis found that about 42% of adults who drink also use medications known to interact with alcohol. Nearly 78% of older adults (over 65 years of age) who drink use such medications. Among the most frequent drinkers (5 to 7 drinks per week), about 38% use prescription medications that can interact with alcohol.
The researchers note that they couldn't confirm whether drinking and medication use overlapped based on the available data. These are potential, rather than actual, rates. However, they highlight the potential scale of this problem.
"Our findings show that a substantial percentage of people who drink regularly, particularly older adults, could be at risk of harmful alcohol and medication interactions," Breslow says. "We suggest that people talk to their doctor or pharmacist about whether they should avoid alcohol while taking their prescribed medications."
"Combining alcohol with medications often carries the potential for serious health risks," says NIAAA director Dr. George Koob. "Based on this study, many individuals may be mixing alcohol with interactive medications and they should be aware of the possible harms."
Related Links
References: Prevalence of Alcohol-Interactive Prescription Medication Use Among Current Drinkers: United States, 1999 to 2010. Breslow RA, Dong C, White A. Alcohol Clin Exp Res. 2015 Jan 16. doi: 10.1111/acer.12633. [Epub ahead of print]. PMID: 25597432.
Funding: NIH's National Institute on Alcohol Abuse and Alcoholism (NIAAA)