You are here
December 6, 2010
More Frequent Dialysis Improves Health of Kidney Patients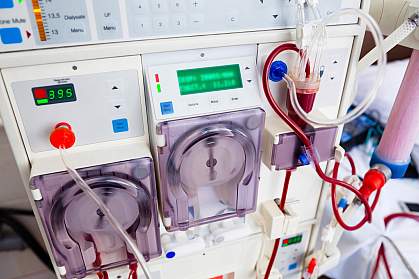 Kidney patients fare better on an almost-daily hemodialysis regimen than on the standard 3-times-a-week plan, according to a new study. While more research is needed, the finding could lead to changes in the standard of care for patients who need dialysis treatment.
Nearly 400,000 Americans depend on dialysis to survive. These treatments are necessary when the kidneys fail and waste products build up in the body. In the most common kind of dialysis, hemodialysis, your blood flows through a special filter that removes wastes and extra fluids. The clean blood is then returned to your body.
Despite recent advancements in technology and medication, 18% to 20% of patients still die from kidney disease. Previous studies suggested that higher doses of dialysis may improve patient survival. However, increasing the dose during the usual 3 sessions per week showed no benefit.
Some small studies have suggested that the dialysis dose could be greatly increased by adding more dialysis sessions. Researchers from the Frequent Hemodialysis Network Daily Trial Group set out to investigate whether adding more dialysis sessions could improve patients' survival and well-being. Their work was partially funded by NIH's National Institute of Diabetes and Digestive and Kidney Diseases (NIDDK).
The scientists randomly assigned almost 250 patients from more than 60 different dialysis treatment facilities to 2 groups—one receiving 6 treatments a week and one receiving 3. They used MRI to determine the size of the patients' left ventricles as a measure of heart health. They also asked the patients to complete a widely used clinical survey to assess how well they felt and functioned.
The results appeared online on November 20, 2010, in the New England Journal of Medicine. Patients receiving more frequent dialysis had improvements in heart health and blood pressure, as well as in overall health. The more frequent treatments also helped avoid excessive phosphate levels in the blood, which is often a problem for patients on dialysis. The only downside was that access to blood vessels needed to be adjusted about twice as often in patients who received more treatments.
"We confirmed that by administering dialysis more often, although with a smaller dose each time, we could effectively deliver a higher weekly dose overall. As a result, patients' hearts remained healthier, they enjoyed better blood pressure control and they enjoyed better physical health than those receiving the standard 3 treatments per week," says NIDDK Director Dr. Griffin P. Rodgers.
The scientists couldn't draw conclusions about whether more frequent treatments affected death rates. Nevertheless, this study offers hope that simple changes to current dialysis treatments could substantially improve the health of the patients who depend on them.
Related Links