You are here
September 24, 2012
MRI Shows Promise for Heart Procedures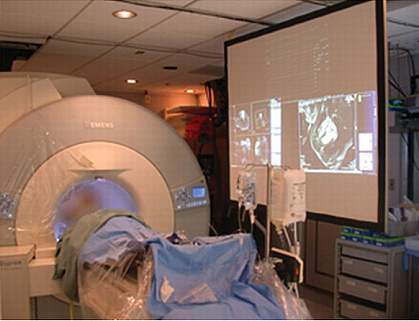 Ratnayaka et al., Courtesy of European Heart Journal.
An experimental MRI method may be as safe and swift as standard X-ray procedures for guiding surgical interventions in the heart. The finding, from a small clinical study, suggests that MRI might one day offer a radiation-free alternative to more widely used X-rays for visualizing heart-related interventions.
A medical procedure called cardiac catheterization is often used to diagnose and treat certain heart conditions. The procedure involves easing a thin flexible tube, or catheter, through blood vessels, usually beginning in the arm, neck or leg and ending in specific areas of the heart. Once in place, the catheter can be used as a passageway for compounds and devices that can help open arteries, take tissue samples and assess heart function.
To make sure the catheter is reaching the right location, surgeons often rely on special X-ray "movies" that visualize the tube's movement and placement in the heart. This technique uses ionizing radiation, which has the potential to harm tissues. A single cardiac catheterization uses low radiation and carries little risk for an adult. But the risk may be greater for children or patients who undergo lengthy or repeated procedures.
To minimize radiation exposure, scientists at NIH's National Heart, Lung and Blood Institute (NHLBI) have been working to develop rapid, real-time MRI methods that can visualize and guide cardiac-based interventions like catheterization. MRI uses harmless radio waves and magnetic fields to create pictures of internal tissues. MRI is also better than X-rays at distinguishing soft tissues of the heart.
To assess the feasibility of the MRI approach, the scientists conducted a small clinical trial to compare X-ray and MRI catheterization. Led by Dr. Robert J. Lederman, they studied 16 patients who needed catheterization for heart and valve disease. The results appeared online on August 1, 2012, in the European Heart Journal.
The researchers first used X-rays to guide catheterization from a large vein in the leg to the right side of the heart. This allowed the attached veins and pulmonary arteries to be examined. Catheterization was then repeated twice using real-time MRI and balloon-tipped catheters filled with either air or a metallic compound that enhances contrast.
MRI and X-ray catheterizations were successful in 15 of the 16 volunteers. One patient required the use of a wire to help guide the catheter under X-ray. Currently, no guidewires are available that work with MRI. The scientists found that the average procedure time for the 2 approaches was comparable—about 20 minutes. The team had expected MRI procedures to take much longer because MRI-compatible catheters can be difficult to see compared to conventional catheters used with X-rays.
The scientists found that catheters containing the contrast agent were easier to see and aided navigation with MRI. MRI guidance with these catheters was as successful as X-ray guidance in all procedure steps studied, the scientists report.
"Developing safe and conspicuous catheter devices for MRI is the chief obstacle to overcome before this approach can be widely applied at hospitals," Lederman says. "But with improved tools and further improvement of the procedure, real-time MRI catheterization may become a realistic option for many people."
Related Links
References: Eur Heart J. 2012 Aug 1. [Epub ahead of print]. PMID: 22855740.