You are here
November 24, 2014
New Drug for Common Liver Disease Assessed
At a Glance
An experimental drug showed promising results and potential problems in treating a common liver disease.
More research will be needed to determine the drug's long-term safety and effectiveness.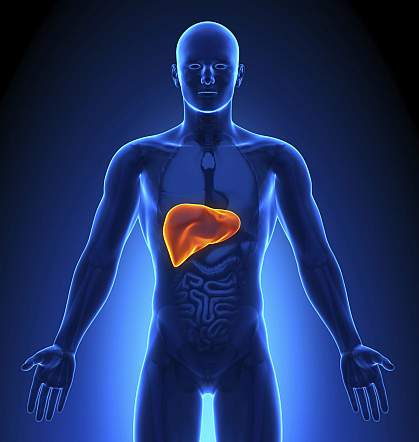 The liver is essential to good health. Its important roles include processing nutrients from food, making proteins, producing bile, and removing waste products. A condition known as nonalcoholic steatohepatitis (NASH) is an increasingly common cause of liver malfunction. By some estimates, it affects up to 5% of Americans, and it's the third-leading diagnosis in the U.S. requiring liver transplantation. NASH is characterized by fat in the liver, along with inflammation and damage. It most often occurs in people who are middle-aged and overweight or obese.
Currently, there are no specific therapies for NASH. Management typically includes losing weight, eating a healthy diet, increasing physical activity, and avoiding alcohol. NIH's National Institute of Diabetes and Digestive and Kidney Diseases (NIDDK) launched a large clinical trial to test the effectiveness of a modified bile acid called obeticholic acid (OCA) for treating NASH. Natural bile acids affect metabolism and insulin sensitivity, and are used by the body to help with digestion.
The study enrolled 283 adults diagnosed with NASH at 8 medical centers across the country. Participants were randomly assigned to take 25 milligrams of OCA daily or a placebo pill. Results appeared online on November 6, 2014, in the Lancet.
The participants were scheduled to receive the drug or placebo for 72 weeks, with an additional 24 weeks of follow-up off treatment. However, a planned interim analysis for safety and efficacy showed that OCA had significant beneficial effects. The researchers found that liver health improved in 45% of people on OCA compared to 21% of the placebo group, as determined by liver biopsies and other tests.
The team also found an unexpected rise in total cholesterol in participants taking OCA. This group had increased LDL cholesterol ("bad" cholesterol) and decreased HDL cholesterol ("good" cholesterol). This finding was notable because people with NASH are already at higher risk for cardiovascular diseases.
Because of the clear improvements to liver health and the unexpected cholesterol changes, and with the agreement of the Data Safety and Monitoring Board, NIDDK decided to stop the treatment phase but continue the study. All patients were subsequently moved to the follow-up phase, and no additional liver biopsies were performed. The adverse cholesterol increases were reversed after the participants stopped taking OCA.
"[This] trial represents an important advance in the search for treatments of NASH. The causes of NASH aren't fully understood, and causes and treatments may be different among patients," says Dr. Brent Neuschwander-Tetri of St. Louis University, the study's lead author. "We found that the improvement in liver enzymes with obeticholic acid was not sustained after treatment was stopped, so we would expect that treatment would need to be indefinite, much like the medications for diabetes and hypertension."
More research will be needed to assess the drug's long-term effectiveness and safety, including its effects on cholesterol and cardiovascular health.
Related Links
References: Farnesoid X nuclear receptor ligand obeticholic acid for non-cirrhotic, non-alcoholic steatohepatitis (FLINT): a multicentre, randomised, placebo-controlled trial. The Lancet, 7 November 2014. doi:10.1016/S0140-6736(14)61933-4
Funding: NIH's National Institute of Diabetes and Digestive and Kidney Diseases (NIDDK), National Center for Advancing Translational Sciences (NCATS), and National Cancer Institute (NCI); Intercept Pharmaceuticals, Inc.