You are here
May 5, 2020
New genetic regions linked to risk of melanoma
At a Glance
Researchers linked new regions of the genome to melanoma, the deadliest form of skin cancer.
These findings confirm the importance of key pathways and also provide new avenues to explore for a better understanding of skin cancer development.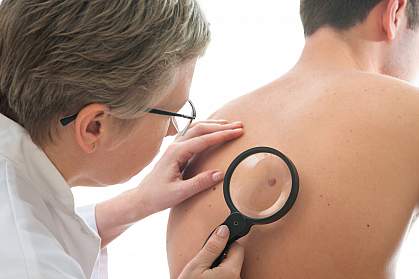 AlexRaths / iStock / Getty Images Plus
Skin cancer is the most common type of cancer. There are several types of skin cancer, but melanoma causes most skin cancer deaths. Melanomas are tumors that arise from melanocytes, the cells that produce your skin's natural color (pigment).
Melanoma is caused by a combination of environmental and genetic factors. The biggest environmental risk factor for developing melanoma is exposure to ultraviolet (UV) radiation from the sun. UV radiation damages DNA. However, other factors are also linked to increased risk for melanoma, including family history, a light skin complexion, and having a lot of freckles and moles.
Most cases of melanoma are sporadic, meaning that the genetic changes that led to the cancer were not inherited. Rather, the pigment cells accumulated these changes over a lifetime. But there are also inherited genetic changes that can increase your risk for skin cancer. Previous genome-wide association studies in people of European descent identified 21 genetic loci (regions of the genome) linked to melanoma risk, and other approaches identified another 12.
To evaluate genetic risk of melanoma more broadly for people across the globe, an international team of researchers led by Drs. Maria Teresa Landi at NIH's National Cancer Institute (NCI), Matthew Law at QIMR Berghofer, and Mark Iles at the University of Leeds compared DNA from nearly 37,000 people with melanoma to 375,000 healthy people. Study participants were from the United States, United Kingdom, Australia, northern and western Europe, and the Mediterranean. Results were published on April 27, 2020, in Nature Genetics.
The team identified 54 loci that were associated with melanoma, half of which were previously linked to a person's risk for melanoma.
By combining their meta-analysis with genetic data linked with known risk factors, they identified another 31 loci that influence melanoma risk. These included eight linked to melanoma and mole count, 17 to melanoma and light hair color, and four to melanoma with both mole count and light hair color.
They found no major differences in the results between people living in different geographic regions.
"We used the relationship between moles, pigmentation, and melanoma to identify 31 additional gene regions that potentially influence melanoma risk," says Landi.
"The population sample we used is three times larger than any previous genetic study on melanoma risk and gives us strong confidence that the new regions we've discovered all play a role in the disease," Iles says.
"By finding new regions we can now narrow in on the specific underlying genes and better understand the pathways that lead to melanoma," Law explains.
More studies will be needed to learn how these genes are functionally involved in the development of melanoma.
Related Links
References: Genome-wide association meta-analyses combining multiple risk phenotypes provide insights into the genetic architecture of cutaneous melanoma susceptibility. Landi MT, Bishop DT, MacGregor S, Machiela MJ, Stratigos AJ, Ghiorzo P, Brossard M, Calista D, Choi J, Fargnoli MC, Zhang T, Rodolfo M, Trower AJ, Menin C, Martinez J, Hadjisavvas A, Song L, Stefanaki I, Scolyer R, Yang R, Goldstein AM, Potrony M, Kypreou KP, Pastorino L, Queirolo P, Pellegrini C, Cattaneo L, Zawistowski M, Gimenez-Xavier P, Rodriguez A, Elefanti L, Manoukian S, Rivoltini L, Smith BH, Loizidou MA, Del Regno L, Massi D, Mandala M, Khosrotehrani K, Akslen LA, Amos CI, Andresen PA, Avril MF, Azizi E, Soyer HP, Bataille V, Dalmasso B, Bowdler LM, Burdon KP, Chen WV, Codd V, Craig JE, Dębniak T, Falchi M, Fang S, Friedman E, Simi S, Galan P, Garcia-Casado Z, Gillanders EM, Gordon S, Green A, Gruis NA, Hansson J, Harland M, Harris J, Helsing P, Henders A, Hočevar M, Höiom V, Hunter D, Ingvar C, Kumar R, Lang J, Lathrop GM, Lee JE, Li X, Lubiński J, Mackie RM, Malt M, Malvehy J, McAloney K, Mohamdi H, Molven A, Moses EK, Neale RE, Novaković S, Nyholt DR, Olsson H, Orr N, Fritsche LG, Puig-Butille JA, Qureshi AA, Radford-Smith GL, Randerson-Moor J, Requena C, Rowe C, Samani NJ, Sanna M, Schadendorf D, Schulze HJ, Simms LA, Smithers M, Song F, Swerdlow AJ, van der Stoep N, Kukutsch NA, Visconti A, Wallace L, Ward SV, Wheeler L, Sturm RA, Hutchinson A, Jones K, Malasky M, Vogt A, Zhou W, Pooley KA, Elder DE, Han J, Hicks B, Hayward NK, Kanetsky PA, Brummett C, Montgomery GW, Olsen CM, Hayward C, Dunning AM, Martin NG, Evangelou E, Mann GJ, Long G, Pharoah PDP, Easton DF, Barrett JH, Cust AE, Abecasis G, Duffy DL, Whiteman DC, Gogas H, De Nicolo A, Tucker MA, Newton-Bishop JA; GenoMEL Consortium; Q-MEGA and QTWIN Investigators; ATHENS Melanoma Study Group; 23andMe; SDH Study Group; IBD Investigators; Essen-Heidelberg Investigators; AMFS Investigators; MelaNostrum Consortium, Peris K, Chanock SJ, Demenais F, Brown KM, Puig S, Nagore E, Shi J, Iles MM, Law MH. Nat Genet. 2020 Apr 27. doi: 10.1038/s41588-020-0611-8. [Epub ahead of print]. PMID: 32341527.
Funding: NIH's National Cancer Institute (NCI); Cancer Research UK; US Army Medical Research and Material Command; Cancer Council Victoria; Queensland Cancer Fund; Cancer Council New South Wales; Cancer Council South Australia; Cancer Foundation of Western Australia; Cancer Council Tasmania; National Health and Medical Research Council of Australia (NHMRC); S. Boldeman; Agar family; Ovarian Cancer Action (UK); Ovarian Cancer Australia; Peter MacCallum Foundation; te Italian Ministry of Health; European Commission; Carlos III Health Institute, European Development Regional Fund; Catalan Government, Spain; La Marató de TV3 Foundation; AECC Scientific Foundation; Government of Catalonia; Italian Ministry of the University and Scientific Research; Melanoma Research Alliance; Cancer Councils New South Wales, Victoria and Queensland; Cancer Institute New South Wales; Cooperative Research Centre for Discovery of Genes for Common Human Diseases; Cerylid Biosciences; Australian Cancer Research Foundation; Wellcome Trust; N. and S. Hawkins; Australian Research Council.